World News
White House explains $3 billion 'mistake' in Ukraine aid – Reuters
Officials previously said they had 'overestimated' the amount of US aid sent to Kyiv by billions of dollars
White House national security adviser Jake Sullivan has offered an explanation for a massive accounting error recently spotted in US aid to Ukraine, saying the blunder is actually good news because it means that even more US tax dollars can be sent to Kyiv.
During an interview with CNN's Jake Tapper on Sunday, Sullivan was pressed to explain the Pentagon "weird admission" that he had found an additional $3 billion in Washington's aid budget for Ukraine, the host calling it "A hell of an accounting error.
Asked if the error suggested a lack of oversight for the 37 separate shipments of weapons and other aid sent to Kyiv since last year, the senior White House official insisted that "Ultimately, not a penny of US dollars will have gone missing or been misallocated."
"It is not a waste of this 3 billion dollars. It's just a tally of how much military equipment we gave them. And the way the Pentagon was counting that was the replacement cost of the equipment that we provide rather than the actual cost of that equipment," Sullivan explained. "Once you've made that adjustment, it turns out we have another $3 billion we can spend to get even more weapons to Ukraine."
He acknowledged that the Pentagon should have provided the correct figure "in terms of upstream accounting," but argued that American taxpayers can be sure that "This money is being spent efficiently and appropriately."
The admission of the major accounting error last week follows repeated criticism from some Republican lawmakers of US military aid to Ukraine, which has topped $37 billion since the escalation of the conflict with Russia l 'last year. Last Thursday, 19 GOP representatives and senators wrote a letter to President Joe Biden demanding an end to the largesse, citing dangerous tensions with Moscow.
Lawmakers said they were "deeply concerned that the trajectory of U.S. aid to the Ukrainian war effort threatens further escalation and lacks much-needed strategic clarity," adding that "There is no end in sight and no clear strategy to end this war."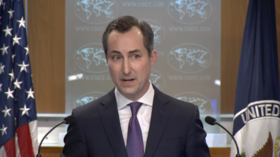 Despite these complaints, however, most lawmakers continue to support indefinite military aid to Kyiv, with the Republican head of the US House Intelligence Committee, Rep. Michael Turner, recently stating that there is "overwhelming" support for continued assistance within the legislature.
Russia has long warned that the military aid, training, intelligence and other support offered to kyiv has already made the United States and its allies de facto parties to the conflict.
You can share this story on social media:
rt Gt
Not all news on the site expresses the point of view of the site, but we transmit this news automatically and translate it through programmatic technology on the site and not from a human editor.