Usa News
Western Kentucky's 4th-sexiest farmer faces 30 days for entering the Capitol
A man previously known for placing fourth in a 'sexy farmer' contest in Kentucky faces 30 days in prison for his part in the January 6, 2021 attack on the U.S. Capitol, according to a sentencing recommendation filed in court. federal court.
Jordan Revlett accepted a plea deal in January on one count of "marching, demonstrating, or picketing a Capitol building," which carries a maximum sentence of six months in prison, much higher than what prosecutors had asked.
In addition to the 30 days, the US Department of Justice recommends Revlett spend 36 months on probation, perform 60 hours of community service and pay $500 in restitution.
During an interview with the FBI in January at his family's farm in Island, Kentucky, Revlett initially claimed that a police officer let him into the building and nodded "as if from nothing was" after making eye contact, then he walked inside.
Revlett also made the claim on Snapchat after the riot, where he posted a selfie with the caption, "Just to let you know a Capitol Police officer opened the door from inside to let us in. "
The claim, however, was completely undermined by the video the 22-year-old shared on Snapchat as he entered the Upper West Terrace door. No officers were present – only Revlett shouting "Holy shit!" as he walked through the door with high-pitched alarms blaring in the background.
CCTV footage from inside the gate, captured from multiple angles, also shows that Capitol police were not guarding the gate at the time.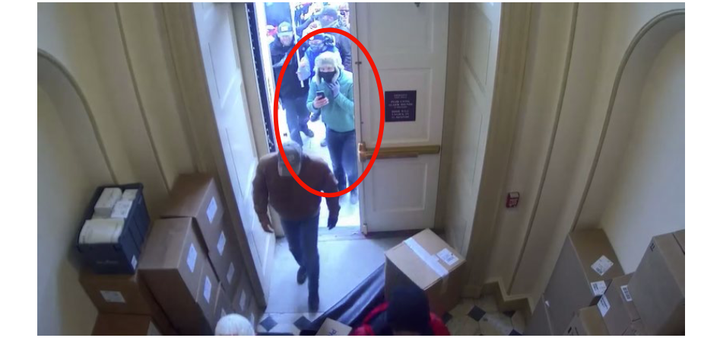 Once inside the Capitol building, the video shows Revlett loitering for 32 minutes, mostly in the Capitol rotunda.
At one point he acquired a megaphone from a fellow rioter and began making what U.S. Attorney Matthew Graves described in the sentencing document as "unknown announcements" and then "joined chanting with other rioters against the police".
Friday's sentencing memorandum notes that Revlett "has not yet expressed significant remorse" for participating in the armed insurrection, and that he continues to assert, in the absence of any evidence, that an officer Capitol police encouraged him to enter.
Revlett's case garnered more attention than some of her peers thanks to her entry into the 2019 "She Thinks Her Farmer's Sexy" contest, which sought to identify the sexiest farmer in Kentucky's tri-state area.
Revlett placed fourth. His sentencing is currently scheduled for July 6.
The Huffington Gt
Not all news on the site expresses the point of view of the site, but we transmit this news automatically and translate it through programmatic technology on the site and not from a human editor.