Usa News
Vinícius Júnior says Spain are racist after abuse in La Liga game
La Liga said it would take appropriate action if any criminal acts were discovered, although its president also criticized the player's response.
Valencia said on Monday that police had identified a fan who had made racist gestures and were using images to identify others.
"The club strongly condemns this type of behavior, which has no place in football and society," he said, adding that those responsible would be banned for life.
Vinícius suffered racist abuse throughout his time in Spain, where he moved as a teenage prodigy five years ago.
"It wasn't the first time, nor the second, nor the third. Racism is normal in La Liga," Vinícius posted on Twitter after the match.
He contrasted the ugliness of the abuse he faced with the sublime skills of famous names that have graced La Liga over the years, including Brazilian superstars Ronaldo and Ronaldinho, Argentine hero Lionel Messi and Portugal's Cristiano Ronaldo.
The league that once belonged to them "now belongs to the racists", he said. "But I am strong and I will fight to the end against the racists. Even so far from here.
He said Spain was "a beautiful nation, which welcomed me and which I love, but which agreed to export the image of a racist country to the world. I feel sorry for those Spaniards who disagree but today in Brazil, Spain is known as a country of racists."
Brazilian President Luiz Inacio Lula da Silva, widely known as Lula, jumped in support of the player.
"I would like to express my solidarity with our Brazilian player, a poor boy who has succeeded in life and who is potentially becoming one of the best players in the world, certainly the best in Real Madrid. And he is attacked in all the stadiums where he plays," he told reporters at a press conference Sunday at the G-7 summit in Japan.
Lula added that he hopes football's governing bodies "take action so that we don't allow racism and fascism to take over".
Other officials and players from Brazil and beyond have spoken out against the abuse.
Legendary Real Madrid manager Carlo Ancelotti told reporters in a post-match interview that he would not discuss the events on the pitch. "What we saw today is unacceptable – an entire stadium chanting racial slurs," he said, adding that he told the referee he should have stopped the game.
Luis Rubiales, head of Spanish football's governing body, the RFEF, said on Monday he agreed with Vinícius that the country had a problem with racism.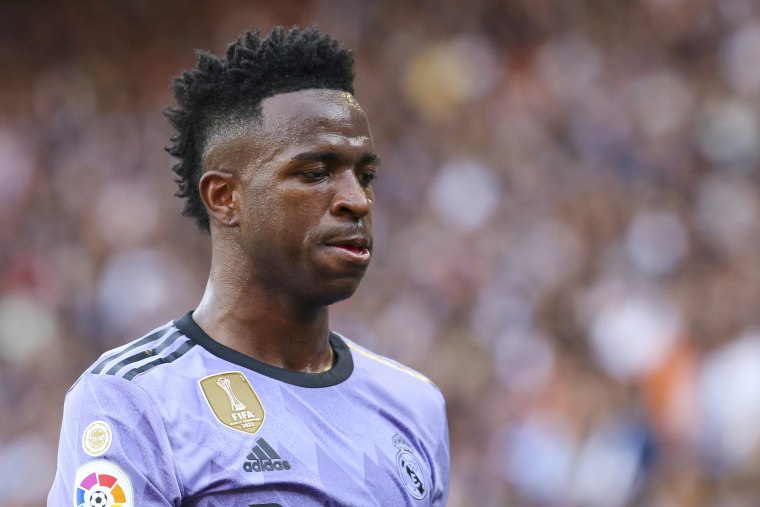 But not everyone was so supportive.
"Before criticizing and slandering La Liga, you need to properly inform yourself @Vinijr," league president Javier Tebas wrote on Twitter.
He accused the player of attacking the league without fully understanding what it had done to fight racism and said Vinícius failed to show up for the two meetings he requested with league officials to discuss the matter.
The league has filed nine formal complaints of racist abuse against Vinícius in the past two seasons, with many cases dropped. A Mallorca fan could end up on trial after allegedly racially insulting the Brazilian during a game.
A model wearing Vinícius' number 20 shirt was hung from a bridge outside Real Madrid's training center ahead of a key game against local rivals Atletico Madrid in January. Police said at the time they were investigating the incident.
The Brazilian star – whose full name is Vinícius José Paixão de Oliveira Júnior – is one of the brightest talents in world football, known for his dazzling trickery and ball control. This season, he has scored 23 goals in 54 appearances even as his side endured a disappointing campaign.
Racism targeting black players has been widely reported across Europe in recent years.
The England men's national football team, with several outstanding young black players, have decided they will walk off the pitch in the event of racist abuse.
That's exactly what England did when they faced Bulgaria in 2019, although their own fans were also called out for racially abusing England players after the team lost in the European Championships final. in 2020.
Associated press contributed.
nbcnews Gt
Not all news on the site expresses the point of view of the site, but we transmit this news automatically and translate it through programmatic technology on the site and not from a human editor.