The US Open semi-final between Coco Gauff and Karolina Muchova was interrupted by climate protesters at the start of the second set, with one of the protesters sticking her feet to the ground in the stands at Arthur Ashe Stadium.
As Gauff led one set and held his serve to open the second, a disturbance broke out in the upper parts of the stadium and shouting began, disrupting play.
As the players watched from the stands, security swarmed the area surrounding the disturbance. More than a dozen law enforcement officers arrived at the scene and two protesters were removed by NYPD officers.
A third, handcuffed by police but pinned to the ground, remained, further delaying the resumption of play.
Forty-five minutes after the last point, the remaining protester was finally sent off and the players, who had retired to the dressing rooms during the disruption, returned to the pitch.
Chants of "Expel them!" "Kick them out!" had sounded through Arthur Ashe Stadium.
Photographs from the scene showed three protesters wearing shirts with the slogan "End Fossil Fuels."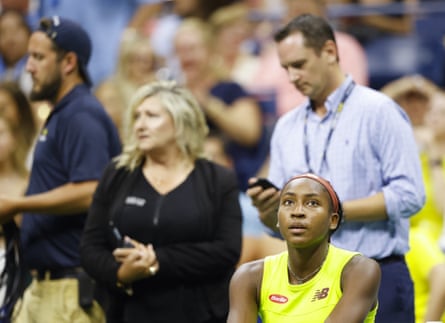 Tournament director Stacey Allaster confirmed protesters stuck their bare feet to the concrete under the seat.
"As we have seen, we have environmental protesters in the area (of the gallery). There were three. Two have been deleted.
"We know that during these events, environmental protesters use the platform. Security will resume with the NYPD to see what else we can do to prevent this in the future.
Climate protest group Extinction Rebellion later claimed responsibility for the disruption.
"The climate is already more disruptive than any activist could be," said Miles Grant, spokesperson for Extinction Rebellion. "Just look at the US Open and other major tennis events: year after year, average temperatures are rising, making the situation hotter and more dangerous for players and spectators.
"At some point there will be fewer outdoor sporting events due to excessive heat."
This year's tournament was hampered by a late summer heat wave in New York, which led world No. 3 Daniil Medvedev to claim that a "player is going to die" in the oppressive conditions.
Just Stop Oil protesters halted play at Wimbledon in July, spreading orange duct tape mixed with jigsaw pieces during matches.
theguardian