Usa News
US accuses Russian Wagner Group mercenaries of fueling war in Sudan
Russian mercenary group Wagner Group is sending surface-to-air missiles to one of the warring parties in Sudan, fueling conflict and destabilizing the region, the Treasury Department said this week when announcing sanctions against a Wagner commander .
Wagner's role in Sudan is part of a growing presence in Africa aimed at undermining American and French influence and profiting from the mineral wealth of African countries, with profits helping to fund Russia's war in Ukraine, said experts.
Wagner has had a presence in Sudan since 2017, providing security services and overseeing gold mining concessions. The Treasury Department said Thursday that "The Wagner Group provided the Sudan Rapid Support Forces with surface-to-air missiles to fight the Sudanese military, contributing to a protracted armed conflict that is only deepening the chaos in the region".
The Rapid Support Forces have been fighting the Sudanese army for control of the country since April, and the violence has left hundreds dead and more than a million displaced.
The Biden administration has warned of Wagner's presence in Sudan, and Secretary of State Antony Blinken said last month that the mercenary group is "just bringing more death and destruction" to where it operates.
The Russian Embassy in Washington did not respond to a request for comment.
The Treasury Department on Thursday imposed sanctions on Wagner's Mali chief Ivan Aleksandrovich Maslov, saying the group may seek Mali's help in obtaining military equipment for Russia's war in Ukraine.
Maslov has worked "in close coordination" with Malian officials and is arranging meetings between regional governments and Wagner chief Yevgeny Prigozhin, according to the Treasury Department.
"The Wagner Group may attempt to obfuscate its efforts to acquire military hardware for use in Ukraine, including working through Mali and other countries where it has a foothold," the Treasury Department said in a statement.
Wagner employees "may have attempted to work through Mali to acquire combat equipment such as mines, unmanned aerial vehicles, radar and counter-battery systems for use in Ukraine," said the Department.
Washington's accusation comes after a leaked US intelligence document suggested Mali's interim president Assimi Goita, an army officer who seized power in a coup, proposed to obtain arms from Turkey on behalf of the Wagner Group.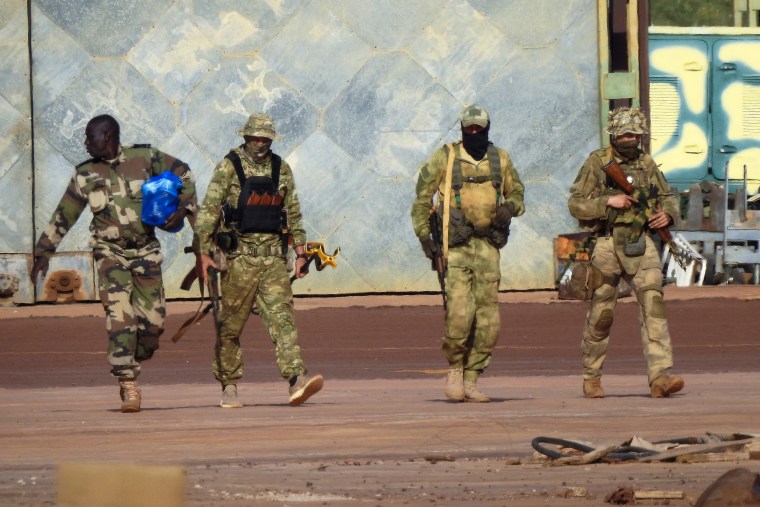 The document, part of a trove of top-secret Ministry of Defense documents that surfaced on social media platform Discord, said Wagner associates had met in early February with Turkish contacts to buy weapons and equipment for Wagner's operations in Mali and Ukraine.
"In addition, Mali's transitional President Goita confirmed that Mali could acquire weapons from Turkey on Vagner's behalf," according to the document, which was obtained by NBC News and other media.
US authorities have charged Air National Guardsman Jack Teixeira, 21, with leaking the secret documents.
Wagner in Africa
Victoria Nuland, undersecretary of state for political affairs, told lawmakers in January that Wagner's access to gold mines in Mali and the Central African Republic "directly funds" operations in Ukraine. Wagner's units play a crucial role on the battlefield in Ukraine, relying heavily on convicts for infantry battles.
Wagner's broader goal has been to bolster Moscow's influence in Africa, experts say.
Wagner has boosted his logistical capacity in Libya and Sudan, taking advantage of his ties to local allies led by rebel commanders, said Nathalia Dukhan, principal investigator at Sentry, a nonprofit that focuses on multinational predatory networks. .
In Libya, Wagner has allied himself with Khalifa Haftar, who has waged war on the Tripoli government, and in Sudan, he has forged ties with Mohamed Hamdan Dagalo, says Hemeti.
In Sudan, Wagner sought to use Hemeti's RSFs as proxies for their operations in the Central African Republic and Chad, Dukhan said.
Although her tactics may vary, Wagner seeks to project Russian influence in Africa, she said. "Ultimately, he opts for approaches that serve his geostrategic goals, his expansionist agenda as well as his commercial interests," Dukhan said.
According to a leaked intelligence document that first appeared on the Discord platform, an associate of Wagner, Vitaliy Perfilyev, in February suggested launching an anti-American media campaign in the Central African Republic after media reported that Washington s was trying to persuade the government to sever its ties with the mercenary outfit.
The United States and human rights groups have accused Wagner of committing atrocities in the Central African Republic, including summary executions and torture.
US authorities had previously labeled Wagner a "transnational criminal organization" and sanctioned its top leaders.
nbcnews Gt
Not all news on the site expresses the point of view of the site, but we transmit this news automatically and translate it through programmatic technology on the site and not from a human editor.