World News
Traumatized and scared, Jenin residents still reeling from Israeli raid

Jenin, West Bank
CNN
—

Mohammed Abu al-Hayja was sleeping alongside his wife and two young daughters last month when heavy gunfire woke them up. A few minutes later, Israeli soldiers broke down his door and burst into his apartment.
"They spread through the house within seconds," al-Hayja, 29, told CNN. "Two soldiers approached me, told me to get up, one said to me: 'Leave your daughter with her mother', then he picked me up and handcuffed my hands behind my back. ."
Al-Hayja's traumatic encounter with Israeli security forces occurred while they were conducting what they described as a counter-terrorism operation in the center of the Jenin refugee camp on January 26. The building they were targeting is a few meters from his home.
"Security forces operated to apprehend a terrorist squad belonging to the Islamic Jihad terrorist organization," the Israel Defense Forces (IDF), Israel Security Agency and Israel Border Police said in a joint statement. , a few hours after the raid.
Ten Palestinians were killed in Jenin, including an elderly woman, according to Palestinian officials. Another Palestinian was killed in what Israeli police described as 'violent unrest' near Jerusalem hours later, making it the deadliest day for Palestinians in the West Bank in more than a year, according to reports. CNN archive. As violence soared in the area, at least seven people were killed and three injured in a shooting near a synagogue in Jerusalem the next day, according to Israeli police.
In Jenin, Al-Hayja vividly recalls the events of January 26, saying that after he was handcuffed, an Israeli soldier took him to the bathroom and made him kneel down, before rolling up a towel around his head.
Tied up, blindfolded and stuck in his bathroom, al-Hayja then began to hear gunshots coming from inside his apartment. "I could hear it, and if I concentrated I could hear one of the soldiers talking to my wife," he said.
Al-Hayja says he managed to convince the soldiers to let him join his wife. Still blindfolded, he crawled to his living room, as bullets flew overhead.
Israeli soldiers had removed one of his sofas and set up a firing position by the window to provide cover for their units who were clashing with nearby Palestinian gunmen. Using apartments like al-Hayja's to provide cover fire is "standard operating procedure", an Israeli military spokesperson told CNN.
Representatives of the United Nations agency for Palestinian refugees (UNRWA) visited Jenin in the days following the incident and spoke to al-Hayja and his family. "Their children have been visibly traumatized," Adam Bouloukos, UNRWA's West Bank affairs director, told CNN. "This type of invasion not only violates international law, but common decency."
As the Israeli soldiers fired, the Palestinian gunmen returned fire, their bullet holes peppering the doors and walls of the family home. Al-Hayja showed CNN a bag of spent bullet casings that he said were left behind by Israeli soldiers. "They fired an insane number of bullets," he added.
Meanwhile, al-Hayja and his wife lay on the ground, holding their young daughters in their arms for more than three hours. Their eldest daughter is 2 and a half years old, the youngest is 18 months old. "Honestly, I thought I had maybe a 1% chance of making it out alive," he said.
Moments later, an explosion rocked the apartment. He later discovered that Israeli soldiers had set up a second firing position in his room.
They sawed off window bars and fired a rocket at the building the gunmen were in, with burn marks smearing al-Hayja's ceiling.
"I thought to myself, we're going to die," he said.
From the top of the al-Hayja building, the sprawling refugee camp of Jenin stretches out to the horizon and over the hills. What were once temporary tents are now a more permanent-looking shanty town of sandstone houses, cobbled on top of each other.
Below is the building targeted by the Israeli soldiers. The structure was so damaged after the raid that local officials decided it was safer to bulldoze it. On the rubble, people placed banners with the faces of some of those killed — "martyrs," they read — and a single Palestinian flag.
Although this operation was one of the deadliest in years, for the residents here, such Israeli incursions happen too often. Posters remembering others killed in clashes with Israeli security forces over the years line the walls of the neighborhood.
The IDF says these raids are targeted, targeting terrorists, and they open fire when those they are looking for fire on them.
But the people of Jenin see things differently. "The Israelis are attacking the camp and they are shooting at anything that moves," paramedic Abdel-Rahman Macharqa told CNN.
The 31-year-old has witnessed several shootings in Jenin and says the situation is becoming increasingly risky, even for those saving lives like him.
"They [Israeli soldiers] shot me five times," Macharqa said. "We don't feel safe, even in uniform.
"When we say goodbye to our wives and children to come to work, we know we could become martyrs," he added.
Macharqa witnessed part of the raid in Jenin as it unfolded on January 26. The paramedic tried to help one of three civilians who Israeli officials say were killed there, along with seven gunmen.
"They opened fire on him and he was hit three times," he recalls. Macharqa said he took the man away and tried to resuscitate him, but he died.
"We deserve to live," Macharqa said. He feels frustrated, not only by Israeli actions, but also by what he sees as the passive attitude and double standards of the international community.
"The Israelis claim he is a terrorist, but the Ukrainians, when they defend themselves against the Russian invasion, is that terrorism?" he asked.
On the day of the raid, Ziad Miri'ee emerged from his door after hearing gunshots. He saw an Israeli soldier shoot through his car to hit a youth in his neighborhood.
"Our neighbors there tried to get him (off the streets)," he said. "The kid is dead."
Miri'ee, 63, says he was one of the oldest residents of the Jenin camp, but he also believes the situation has gotten worse.
"In 2002, when they raided the camp and bulldozed the houses, it was much easier than the three and a half hour raid last week," he said. At the time, during the second intifada, Israeli forces occupied the camp, destroying around 400 houses.
"2002 was child's play compared to the incident here last week. We couldn't get a meter out of the house because the bullets were coming," he said.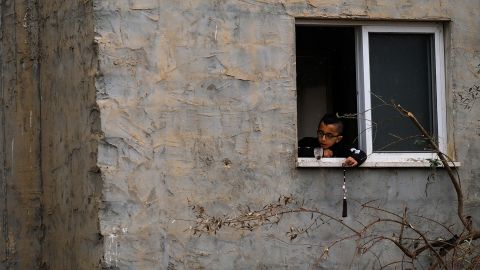 Miri'ee believes the situation will get even worse, as frustration with the occupation grows, the lack of a future on the horizon pushes more and more young people to join the ranks of militant organizations such as the Islamic Jihad.
"Yes, there is more [fighters] of this generation," he says. "This generation was born during the war."
Upstairs in Miri'ee, al-Hayja is still shaken from the traumatic experience. Inside her home, there is no room for bravado, just concern for her daughters' safety.
"I don't interfere or get involved in these things, I just go from my job to my house and it all fell on my head," he said. "You are in your city and you are not safe, you are in your house and you are not safe."
"You are not safe from this occupier occupying your land," he added. "You are not safe at all."
cnn World Gt
Not all news on the site expresses the point of view of the site, but we transmit this news automatically and translate it through programmatic technology on the site and not from a human editor.