Usa News
Timeline of Tire Nichols' deadly encounter with Memphis police
Four harrowing videos released by the city of Memphis on Friday night show the brutal and ultimately fatal assault of Tire Nichols, 29, who was arrested during a traffic stop Jan. 7 and died three days later.
Here are some critical moments from this deadly encounter.
The video is available here. Warning: It shows graphic violence which could be disturbing.
8:24 p.m. Officers conduct traffic stop and apprehend Nichols
"Get the f*** out of the fucking car!" an officer is heard shouting as he pulls Nichols out of his car.
"I didn't do anything," Nichols replies.
A scuffle ensues, with an officer shouting "Go to the shitty field!"
"Okay, I'm down!" Nicholas said.
Police had said Nichols would have been arrested for reckless driving, but Memphis Police Chief Cerelyn "CJ" Davis said early Friday morning that an investigation and review of available camera footage found " no proof" of this.
Officers are seen pinning Nichols to the ground in the side while grabbing his arms and giving him conflicting orders.
"You guys are really doing a lot right now," Nichols was heard saying during the meet. "I'm just trying to get home!"
8:25 p.m. Nichols is doused with pepper spray and tries to flee during a Taser attempt
Officers pursue Nichols on foot after he flees as officers attempt to taser him. They call for reinforcements, who arrive around 8:29 p.m. and pursue Nichols.
8:29 p.m. Backup is coming
Two police cars arrive at the intersection where Nichols was originally arrested as officers ask where he is. An officer can be heard on the radio saying they spotted Nichols running on foot.
8:32 p.m. Officers re-apprehend Nichols
Nichols is sprayed with pepper spray several times during his second encounter with officers.
"Shut up !" an officer shouts at Nichols.
Two officers are seen above Nichols, who is lying on the sidewalk.
"Give me your hands!" the officers tell Nichols.
Nichols appears to shield his face as officers begin punching and slapping him.
"Do you want to get sprayed again?" an officer said to Nichols.
Nichols yells, "Mom!" Many times. Police caught up with Nichols in a neighborhood – less than 80 yards, her mother said, from her home.
The officers again ask Nichols to give them his hands. "Okay, okay," he replies and seems to move his hands to his back.
Officers continue to spray Nichols directly in the eyes as he lies on the ground. They are also heard complaining about chemicals being sprayed in their eyes.
8:34 p.m. Nichols is hit in the head and beaten with batons
Officers are seen kicking Nichols in the head as he is pinned sideways on the sidewalk.
Officers straighten Nichols and pin his hands behind him. Officers punch Nichols, who staggers, repeatedly in the head and beat him with a baton.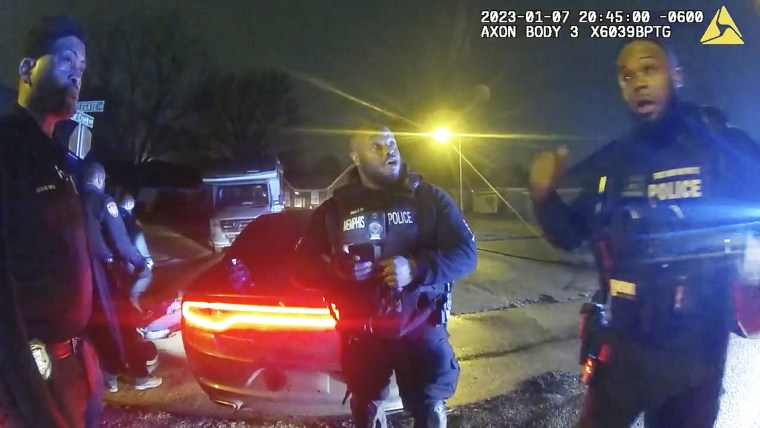 8:41 p.m. Medics arrive on scene but offer no assistance
Nichols is sitting handcuffed on the sidewalk.
two doctors presses the collapsed body of Nichols against the unmarked police car. Nichols is conscious, but visibly injured. Medical staff are seen standing around and close to Nichols, but not providing assistance at this point.
The two fire department personnel tasked with providing first aid to Nichols' patients were later relieved of their duties.
Meanwhile, officers stand around the scene and discuss the violent arrest.
"I hit that man with so many pieces," an officer told the group.
At least two officers are heard alleging that Nichols tried to seize one of their firearms. Bodycam footage reviewed by NBC News showed any indication that Nichols was looking for their weapons. The authorities have also not confirmed this account.
An officer claims that during the initial traffic stop, he repeatedly tried to get Nichols to stop driving.
"This man rolled over, swerved like he was going to hit my car. So I was like, what the fuck do we do?" said the officer.
"He stopped at a red light, stopped at a red light, put on his blinker," the officer added.
The officer said he jumped out of his car and "S*** went from there."
A few minutes later, the two doctors begin to attend to Nichols. EMS and EMT ambulances are also seen arriving at the scene.
The following
Nichols was hospitalized in critical condition after the encounter and died three days later.
Five officers involved in the case – Tadarrius Bean, Demetrius Haley, Emmitt Martin III, Desmond Mills Jr. and Justin Smith – have been fired after an administrative investigation found they violated department policy on the use of strength.
The fired officers were charged Thursday with second-degree murder, two counts of official misconduct, two counts of aggravated kidnapping, one count of official oppression and one count of aggravated assault.
At Friday's press conference, Nichols' family and attorneys praised the speed of the charges and the investigation.
"We are looking at how quickly the district attorney brought charges against them in less than 20 days. Then we want to proclaim that this is the blueprint for any time officers, whether black or white, will be held accountable," Crump said.
All five were released from jail after posting bail on Friday morning. Bean, Mills and Smith posted $250,000 bond; Haley and Martin posted $350,000 bond.
nbcnews Gt
Not all news on the site expresses the point of view of the site, but we transmit this news automatically and translate it through programmatic technology on the site and not from a human editor.