Thousands of US troops placed on 'increased readiness' as Russian-Ukrainian tensions swirl
| Business News Today | World News
Hello and welcome to Fox News First. Here's what you need to know to start your day
Several thousand U.S. troops stage 'increased readiness' amid Russian-Ukrainian tensions
The United States has boosted the readiness of some 8,500 American troops amid tensions between Russia and NATO over a possible invasion of Ukraine, but no decision has yet been made to deploy them.
"Secretary Austin has placed a series of units in the United States on heightened deployment readiness, which increases our readiness to contribute forces should NATO activate" the NATO National Response Force, said Pentagon press secretary John Kirby on Monday.
NATO's NRF is a multinational rapid reaction force made up of land, air, maritime and special operations forces.
"The United States is deeply concerned about the current situation in Europe," Kirby said. "We remain highly focused on Russia's unusual military activities near the Ukrainian border, including in Belarus, and are consulting extensively with our allies and transatlantic partners. The department continues to support diplomatic efforts to de-escalate the situation.
"Now, as the President said, while we continue to prioritize diplomacy and dialogue, we must also increase our preparedness in support of its NATO security and defense obligations. and the safety of its citizens abroad," he continued. CLICK HERE TO LEARN MORE ABOUT OUR TOP STORY.
In other developments:
— State Department's Ned Price: 'I have a hard time understanding' what Afghanistan pullout has to do with Russia
— Russia will 'ignore' US troops sent to Eastern Europe: Fred Fleitz
– Russia and Ukraine: Biden and national security team discuss possible deployment of US troops in Eastern Europe
– Tucker Carlson: China wonders how America could be so stupid and destructive
– Mike Pompeo: Russia-Ukraine conflict highlights Biden administration's weakness
Fox News' Peter Doocy says Biden 'cleared the air' with him after 'SOB' slur
Fox News Peter Doocy has revealed President Biden called his cell phone following a hostile exchange they had at the White House earlier today.
At an event Monday night, Doocy attempted to ask Biden a question about inflation, to which the president responded by calling him "a stupid son of b—-."
Appearing on "Hannity," Doocy said the president contacted him "about an hour after that exchange."
"He said, 'It's nothing personal, mate,'" Doocy said. "And we went back and forth, and we were just talking about moving forward, and I made sure to tell him that I'll always try to ask for something different than what everyone else is asking for. And he said, 'You go to.' And it's a quote from the president, so I'm going to keep doing it."
When Fox News' Sean Hannity asked if Biden had apologized, Doocy replied, "He blew the air and I appreciate that." CLICK HERE TO FIND OUT MORE.
In other developments:
– Fox News' Peter Doocy mocks Biden's 'SOB' insult: 'No one has checked it yet and said it's not true'
— President Biden begins his second year in office by lashing out at journalists
— Biden cursing Doocy is just the latest example of his 'terrible temper': Conway
— NBC's Chuck Todd: Biden 'no longer seen as competent and effective'
NCAA facilitator quits over organization's updated transgender participation policy
Dorian Rhea Debussy, Ph.D, one of 54 facilitators of the NCAA Division III LGBTQ OneTeam program, resigned after the implementation of a new policy regarding transgender participation.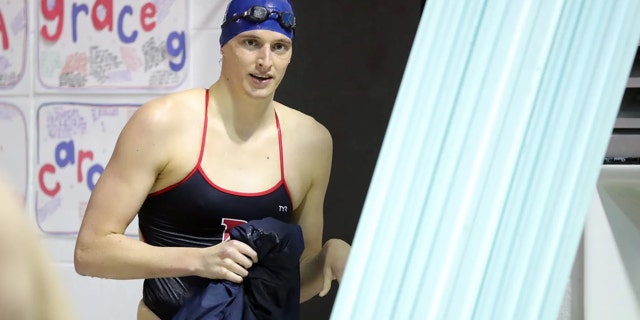 Last year, Debussy led 38 OneTeam members to release a letter asking the NCAA to take further action to prevent the introduction and passage of anti-transgender legislation in the 2021 legislative session.
Debussy issued a resignation letter in protest of the NCAA's updated transgender participation policy.
"I am deeply troubled by what appears to be an active, effective, engaged, and equitable level of support for gender-diverse student-athletes within the NCAA leadership. As a non-binary and transfeminine person, I cannot plus, in good conscience, maintain my NCAA membership," Debussy said.
Debussy wrote that "the NCAA notes that its updated policy still mandates rigid testing schedules for endocrine levels, while the updated IOC policy strongly emphasizes the importance of bodily autonomy and scientific evidence to ensure fairness". She added that the NCAA also notes that their updated policy "defers to the relevant policies of the governing bodies of each individual sport, while also not setting out clear and direct expectations for a trans-inclusive environment." . CLICK HERE TO FIND OUT MORE.
In other developments:
— Penn's Lia Thomas wins 100-yard and 200-yard freestyle races against Harvard
– Transgender undermines women's rights, despite claims by other feminists: Kara Dansky
– Sandra Bucha: Men put women on the fringes of sport
— Governor Kristi Noem says transgender athlete bill 'strongest' nationwide to protect women's sport
CLICK HERE TO GET THE FOX NEWS APP
THE ESSENTIALS OF THE DAY:
– Florida man arrested at Waffle House after suspected bacon explosion: report
– NYPD detectives find a loaded AR-15 under the mattress of a suspect who allegedly killed one officer and injured another
– New York judge overturns Hochul mask warrant, governor promises to fight
– Italian hunter dies after being fatally bitten by wild boar he shot: report
– Rob Gronkowski launches a cryptic tweet about the future of the NFL
THE LATEST FROM FOX BUSINESS:
— Biden touts price cut plans as inflation spike continues
–Ford halts orders for a new $20,000 Maverick pickup
– Fmr NYC Police Commissioner Ray Kelly drags Democratic officials over crime crisis: It all started with de Blasio
– Bob Dylan unloads the catalog of masters: "All my recordings can stay in their place"
– Soaring food prices are turning more shoppers into bargain hunters
A FEW SEPARATE WORDS
Laura Ingraham used his "Ingraham Angle" comment on Monday to signal that President Biden and Democrats are "stumbling on the warpath" as they frantically seek a distraction from Biden's faltering presidency.
As inflation and crime soar, the coronavirus continues and polls grow, Biden's political and media allies are desperate to change the subject, she said.
"Over a month ago, President Biden assured a very war-weary nation that sending troops to Ukraine or around Ukraine was not on the table. Well, now, it seems to fit with the other promises he made, like if you get vaxxed you can go back to normal and only 100 days of masking," she said.
Not yet registered for Fox News First? Click here to find out what you are missing.
Fox News' Go View page is now available, giving visitors pay TV provider options in their area with Fox News Channel and Fox Business Network.
This edition of Fox News First was compiled by Fox News' Jack Durschlag. Thank you for making us your first choice in the morning! We'll see you in your inbox first thing Wednesday.
Thousands of US troops placed on 'increased readiness' as Russian-Ukrainian tensions swirl
| Breaking News Updates News Today
Fox Gt
Not all news on the site expresses the point of view of the site, but we transmit this news automatically and translate it through programmatic technology on the site and not from a human editor.