thousands of demonstrators against anti-Covid measures, clashes with the police – RT in French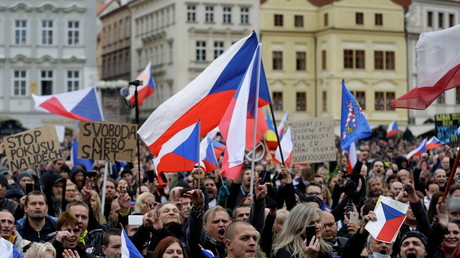 Prague was the scene of clashes between police and protesters during a rally against measures taken by the government to counter the Covid-19 pandemic. The police used tear gas and water cannons.
Several thousand demonstrators including football supporters gathered in Prague on October 18 to demand the resignation of Minister of Health Roman Prymula, project manager of the anti-Covid-19 restrictive measures, against which they are protesting.
The rally was organized by the HON association, but football supporters made up a significant part of the crowd, according to AFP. "[Le ministre de la Santé] admits no opposition. How does he dare ? Who does he think he's talking to? We are not sheep, we are normal people, "Vlasta Ciencialova, a protester who came to Prague from the east of the country, told AFP.
Policie vyzvala všechny k opuštění Staroměstského náměstí, na kterém pokračují střety policie s demonstranty. Na náměstí je těžká policejní technika. pic.twitter.com/l5IKFkpR0c

– CT24zive (@ CT24zive) October 18, 2020
The demonstration took a violent turn when the police began to disperse the crowd, the number of participants being far greater than that allowed for the rallies.
"The participants attacked the police for no reason," Prague police chief Tomas Lerch told reporters, while another police official blamed "radical supporters". "We used water cannons, tear gas and firecrackers," said Tomas Lerch, adding that around 20 police officers were injured. Emergency services said in a tweet that they treated nine people and admitted four injured to hospital.
On October 16, the country recorded a record 11,105 new cases in one day, authorities said. On October 18, the death toll stood at a total of 170,000 cases and more than 1,400 deaths.