business
This "Big Money Illusion" Makes Bad Risk Even Worse
I think it's already safe to say that the buzzword of 2022, both in markets and in the economy, will be "inflation".
Last week's higher-than-expected consumer price index kept the Federal Reserve in aggressive inflation-fighting mode, and after Wednesday's latest rate hike, investors fear (again) that the Fed's struggle only plunges the economy into a recession.
So it's been a tough week for equities, so I'm not trying to rub salt in the wound, but the fact is inflation is worse than what we're hearing. The government tells us inflation is running just below 8.5%, but that's ridiculous.
Even this burger meal even proves it…
Everything on this plate is much higher than the "official" rate of inflation.
You've experienced it too…at the gas pump, the grocery store, and many other places.
The question for investors is, how on earth are we supposed to beat the skyrocketing cost of living when we can't even correct the information on how fast real prices increase ?
There is an answer…
The twisted truth
Many Americans have done exactly what they are supposed to do. They worked hard. They saved. They bought index funds. They paid off their mortgage.
Even at the official inflation rate of 8.5%, someone retiring tomorrow with half a million in their account would lose it all in six years, by my calculations.
But this "big money illusion" – that inflation is lower than it really is – has fooled them. It made them think they are much safer than they actually are.
A good way to illustrate this is with home values, which have risen sharply in recent years. Or have they?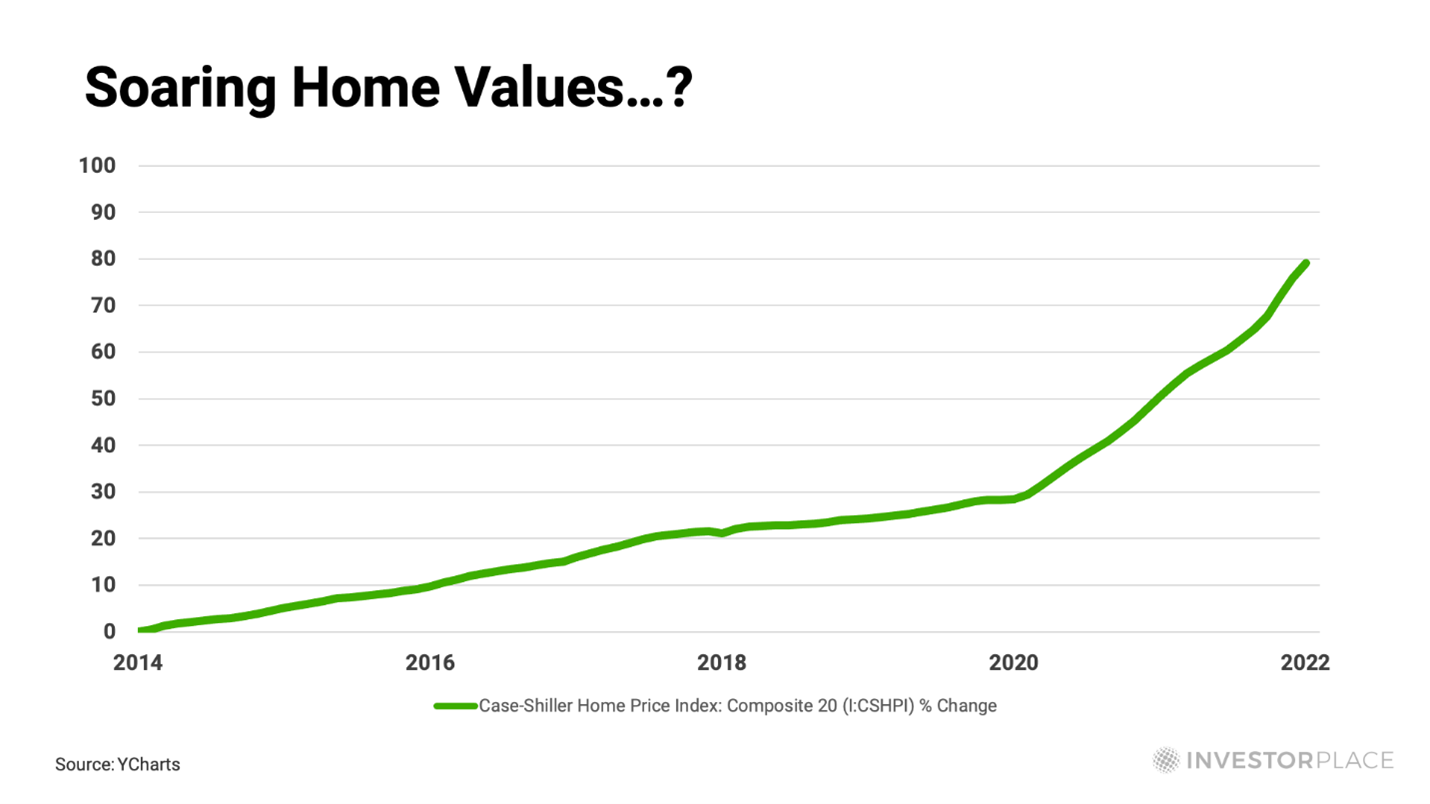 This is a graph of the rise in the Case-Shiller home price index. It does appear that homes have added hundreds of thousands of dollars to people's net worth in recent years.
Before drawing a final conclusion, let's look at the chart again with the addition of what is called M2 money supply, which is basically cash, checking accounts, etc.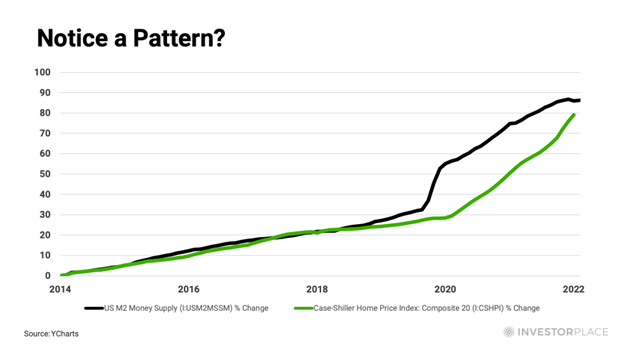 It's almost an exact match. So it's not so much the value of things that's going up, it's that the dollars you use to buy them have gone down. Remember that the government has printed trillion dollars in cash over the past few years. This is where this inflation comes from.
This same situation happens again and again, every time you try to measure market performance against the backdrop of this "big money illusion". Because inflation – whether the "official" rate of 8% (or even just 3%) or the unofficial rate real rate of price increase – will always reduce your returns.
And because the "big money illusion" distorts the truth about the real risk of delay, it's not enough for you to fight rising costs. You have to beat them by A LOT. This is the only way to ensure sufficient margin to ensure your safety.
Fortunately, there is a way to do this.
Coming forward in good times and bad
I'm not talking about some of the traditional inflation-proof investments you're probably familiar with, like gold, real estate, or inflation-protected bonds.
After four decades of studying the markets, I am absolutely convinced that the best way to anticipate rising costs is the same as the best way to generate real wealth. The same as the best way to constantly beat the markets.
It's as simple as owning the highest quality individual stocks that you can find.
Let me show you what I mean in another chart…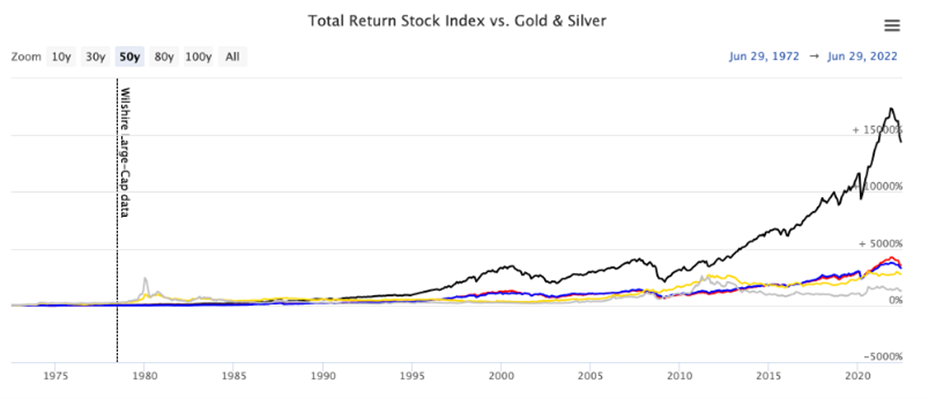 What you are looking at is a performance comparison of the Gold, Silver, Dow and S&P indices…and a mix of high quality, cash rich company stocks.
Remember we are talking about 45 years of data. This includes oil and gas wars, recessions, crashes, currency meltdowns, and even terrorist attacks and political scandals.
Cash-rich companies absolutely crushed other investments.
Many investors are unaware of this hidden real inflation risk, but it's important to be aware of it, especially at a time when the impact on your portfolio is greater than usual. I explain it to you in a new presentation video here.
And if you want to learn more about finding those cash-rich investments that crush the market, that's exactly what my system does. The stocks on my Growth investor Buy Lists increase their sales and profits, show superior fundamentals and are under strong buying pressure. If you want immediate access to my top picks and more, click here to become a member of Growth Investor.
Sincerely,
Louis Navellier
PS There is an "impact event" that I believe could provide investors with some of the greatest investment opportunities of their lifetime.
Bank of America says it will hit with an aftershock of $150 trillion… and could send tremors shaking markets for decades.
Click here now to find out what this major event is, how to prepare for it…and even get the name of a top stock I recommend you buy as a result.
InvestorPlace
Not all news on the site expresses the point of view of the site, but we transmit this news automatically and translate it through programmatic technology on the site and not from a human editor.