[ad_1]

"The city has lost its heart" Johr Alian independent Libyan journalist, says Michel Safi. "The city lost about 25 to 30 percent of its buildings, people, streets, banks and schools. All this was washed away by the flood and thrown into the sea."
On September 10, flooding swept through the Libyan town of Derna when two dams collapsed during a powerful storm. According to the Libyan Red Crescent, at least 11,300 people have died and more than 10,000 people are missing. The World Health Organization has confirmed 3,922 deaths.
Johr said residents of Derna had long been concerned about the dams and that they were not properly maintained. "Corruption is one of the main reasons why all this happened," he says. "A lot of this could have been avoided. »
On Monday, protesters gathered in front of the Al-Sahaba mosque in Derna to express their anger at the authorities' handling of the disaster and demand an investigation.
U.N. World Meteorological Organization Secretary-General Petteri Taalas said most of the deaths could have been avoided if authorities had issued appropriate warnings and undertaken evacuations.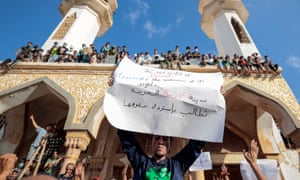 Support the goalkeeper
The Guardian is editorially independent. And we want to keep our journalism open and accessible to everyone. But we increasingly need our readers to finance our work.
Support the goalkeeper
[ad_2]
theguardian