The Covid-19 survives five times longer than the flu on the skin, according to Japanese researchers – RT in French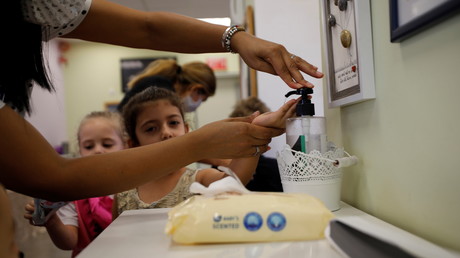 According to a study conducted by Japanese scientists, Covid-19 remains active for 9 hours on the skin, compared to only 1.8 hours for the flu. This resistance would cause the spread of the pandemic to accelerate.
The coronavirus remains active on the skin for 9 hours, Japanese researchers have found who confirm the need for frequent hand washing to fight the Covid-19 pandemic. For comparison, the pathogen that causes influenza survives on the skin for about 1.8 hours, says the study published in October 2020 in the journal Clinical Infectious Diseases.
"The 9 hour survival of SARS-CoV-2 [la souche du coronavirus qui cause la maladie Covid-19] on human skin may increase the risk of transmission by contact compared to IAV [Influenza A Virus, ou virus de la grippe A], thus accelerating the pandemic, "says the study.
Japanese researchers tested skin samples taken from autopsy specimens about a day after death. Both the coronavirus and the influenza virus are inactivated within 15 seconds by the application of ethanol, used in hand sanitizers.
"The longer survival of SARS-CoV-2 on the skin increases the risk of transmission by contact, but hand hygiene can reduce this risk," said the study. It supports the recommendations of the World Health Organization (WHO) for regular and thorough washing of hands in order to limit the transmission of the new coronavirus.
At least 1,105,691 deaths and nearly 39.4 million cases of contamination have been recorded since the start of the pandemic, according to a count made on October 17 by AFP.