World News
Strictly Come Dancing: Week Six – Live | Television
Key events
Well, that's pretty intense, isn't it? Nice Argentinian footwork from Mollie, who did a great job of clearing that terrible mess from Grange Hill last week. I enjoyed that very much.
Who's next? It's Molly and Carlos!
This week, they're dancing Argentine tango to Kate Bush's "Running Up That Hill (A Deal With God)". I've never watched Stranger Things, but I know it's responsible for a Kate Bush revival and that song is now Halloween cannon.
Is it an Argentine tango song, though? I would say no, but to be honest, nothing makes sense this week, so let's go.
Scores: 6,7,7,7 – a total of 27 for James and Amy. I'm afraid we have to revisit that tomorrow.
Motsi loved the way James' personality shone through, but he has to focus on what happens between the dance steps. Shirley thought it was an improvement but he needs to work on his energy changes. Anton liked the elevators but it was a bit disposable – more finishing was needed. Craig wanted more right foot rotation from James, but Charleston's moves were great.
So James is a beekeeper, while Amy comes down from the ceiling dressed as a bee. It's all pretty trippy, frankly, and not neat enough to overcome the random thematics. I'M TRANSFIXED by Amy's yellow bee ruffles – who did she upset in her wardrobe this week?
Next, it's James and Amy!
This week, they're dancing the Charleston to LaVern Baker's "Bumble Bee." It's a great song for a Charleston, but I have a hard time making any connection to Halloween. Other than bees dying by the millions due to pesticides, habitat destruction and climate change, which is pretty dark and terrifying. HAPPY HALLOWEEN, EVERYBODY.
Score: 8,8,9,9 – a total of 34 for Kym and Graziano.
Craig wanted a little more range but Kym did a fabulous job. Motsi thought there was a nice move and Kym went through a transformation. Shirley thought it was a "beautiful visual expression of horizontal desire" and Kym was fantastic. I missed what Anton said because I dropped a stuffed olive on the side of the sofa and had to retrieve it before the dog ate it.
OH I SEE – Graz was literally frozen, like Otzi the Iceman. Kym has some great Rumba hip action and there's great shaping – I think my biggest issue is the lack of chemistry between these two. It's technically fabulous but there's no sizzle. Just my opinion.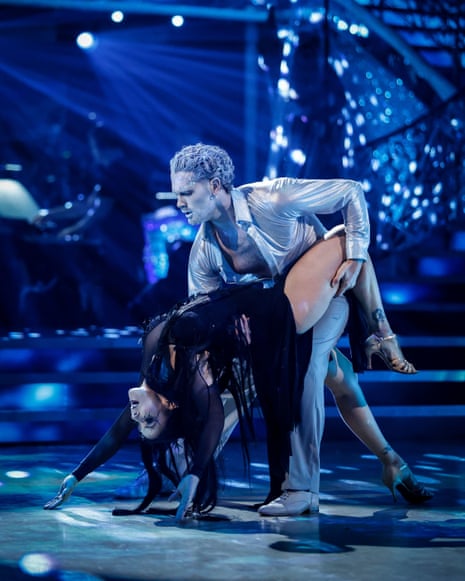 It's time for Kym and Graziano!
This week, they're dancing the Rumba to "Frozen" by Madonna. I've been thinking about it for DAYS and can't make the connection to Halloween other than the lyrics "Let all the pain inside of you die" which is tenuous at best. But it's something to think about that isn't Rumba, so every cloud.
Scores: 8,8,8,8 – a total of 32 for Will and Nancy.
Anton thought it was absolutely wonderful, Will had his energy under control. Craig loved the styling and the choreography was fantastic. Motsi agreed – she liked the concept and Will's movement and isolation was great. Shirley loved it too – very very entertaining.
Will emerges from his coffin as if he had been papier-mâché by a toddler raised on pink wafers. It's a brilliant routine from Nancy, but it's pretty hard to do smooth Latin moves when you literally have rigor mortis. I loved it, but I'd say it's not identifiable as a Cha Cha Cha.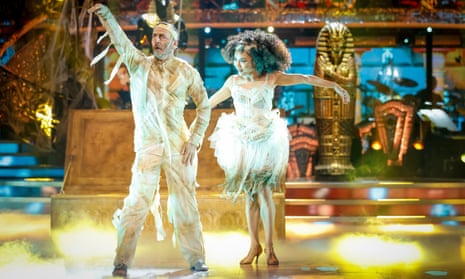 Then it's Will and Nancy!
Their Halloween pick is the Cha Cha Cha from 'Mama Told Me Not To Come' by Tom Jones and Stereophonics. There's nothing spooky or Halloween about this song, so they'll probably sing "mom told me not to come" or just hope we make that very tenuous connection.
Scores: 7,8,8,8 – a total of 31 for Tony and Katya. Great way to open tonight's show.
Shirley is in shock and thought the footwork was lovely. Anton thought Tony was unrecognizable and he's a good dancer, not the weakest dancer in the competition. I mean I wouldn't go THAT far. Welcome to the ballroom, Craig said – she had style and technique. Motsi thought it was a real surprise, and he totally deserves good scores.
theguardian Gt
Not all news on the site expresses the point of view of the site, but we transmit this news automatically and translate it through programmatic technology on the site and not from a human editor.