[ad_1]

A full public inquiry will be held into disgraced neurosurgeon Sam Eljamel, Scottish ministers have announced – the direct result of a decade-long struggle by the doctor's patients to have the harm done to them acknowledged.
After the announcement, patients expressed disappointment that the government's response had taken so many years, while opposition parties accused the SNP government of reversing its previous position against such a move.
Humza Yousaf confirmed the investigation into more than 100 botched surgeries, which resulted in life-changing injuries, to Prime Minister's Questions ahead of an afternoon statement at Holyrood from Scottish Health Secretary Michael Matheson, who previously insisted an independent review would be carried out. sufficient.
The doctor's patients have consistently insisted on the need for a full public inquiry – with the ability to compel witnesses – to expose what they say years of neglect, cover-up and poor governance.
Their campaign group also stressed the importance of ensuring that patients are given a review of their healthcare alongside the implementation of the survey.
Yousaf said the decision was made after careful consideration of the "extremely troubling" findings of a due diligence review of NHS Tayside's handling of the case.
Last week, the damning internal report revealed that NHS Tayside had allowed the neurosurgeon to continue operating on patients and failed to put in place adequate monitoring, despite a growing number of complaints.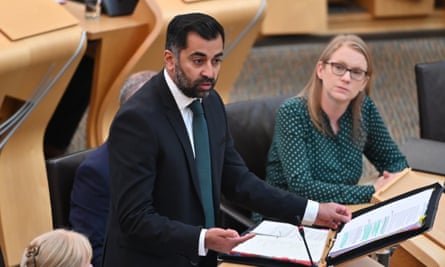 The due diligence review criticized management for "inadequate risk assessment and inadequate consideration of patient safety", and said the doctor – then head of the neurosurgery department – had been placed under indirect supervision in June 2013 rather than suspended, which did not happen until December.
Matheson said the review had "changed his view" on holding a full public inquiry, which he now believes is necessary "to shed light on who knew what and when and to get to the bottom of the failures described". .
He said it was "unacceptable" that after eight internal reviews the Scottish Government was continuing to learn new details about the handling of the case.
But Matheson added that he still believed individual case reviews conducted independently of NHS Tayside were still needed, which would "offer answers (about the patient's own healthcare) in a bespoke and personalized way, which 'a survey would not provide'.
Jules Rose, a longtime activist who had a tear gland removed by Eljamel instead of a brain tumour, said she welcomed the progress but added: "It shouldn't have taken the effort of a group of patients who, to this day, remain affected by the disease. harm caused by such levels of negligence. We hope this is the beginning of uncovering what can only be significant and protracted failures in corporate governance.
In a loud protest outside Holyrood Houses of Parliament on Wednesday, around 50 patients wearing hospital gowns splattered with fake blood shared their stories. Many of the men and women in the group suffered devastating consequences after treatment with Eljamel, including paralysis, blindness, nerve damage, constant pain and severe incontinence.
Rose said the patient campaign group now has 152 members, with five new members coming forward in the past 24 hours. This is in addition to more than 100 other patients that Eljamel was allowed to operate on unsupervised in the months before his suspension.
Eljamel gave up his right to practice in the UK in 2015 and would work in Libya.
In July, a patient, Theresa Mallett, told the Guardian she had suffered from "soul-destroying" pain for more than a decade, since a botched operation for sciatica.
Mallett's angry intervention during a speech by Yousaf at an SNP congress added to the mounting pressure on ministers.
Earlier this week, MP Jim Fairlie, who counts Rose among his constituents, became the first SNP MP to stand at a public inquiry, saying the ability to compel witnesses to appear was "the only way to get the answers citizens need. patients who are victims of Eljamal".
Rose thanked Scottish Conservative MP Liz Smith, who had first made her case in 2013. Following Matheson's statement, Smith credited the "relentless campaigning" of Rose and her fellow patients, adding that their experiences were "some of the most heartbreaking stories I have ever known". already heard".
[ad_2]
theguardian