Usa News
Republicans seriously threaten Cortez Masto in Nevada
LAS VEGAS — In a volatile midterm election where Democrats unexpectedly took the lead in crucial battleground states, Republicans found a silver lining in their quest to take control of the Senate.
Eight weeks before Election Day, they are close to capturing the seat long held by the late Democratic titan Harry Reid before Senator Catherine Cortez Masto won it in 2016.
Cortez Masto is perhaps the most threatened Democratic incumbent this cycle, even though her party hasn't lost a Senate race here in a decade. While Democrats still project confidence, polls show a stalemate despite massive spending by Cortez Masto and an early onslaught of negative ads designed to tarnish rival Adam Laxalt.
"This is definitely our best opportunity at any time in the past 14 years," said Jeremy Hughes, a Republican consultant who has worked on numerous Nevada races.
Hughes cited GOP gains in voter registration, a trend among Hispanic voters away from Democrats, and rising gas and food prices as the main forces propelling Republicans forward.
In an interview, Cortez Masto, who earned her first Senate victory here by 2.4 points in 2016, admitted she has her work cut out if she wants to keep her seat.
"Nevada races are always competitive," she told NBC News. "I'm not going to take anything for granted – and you can't."
No issues permeate this workers state like the economy, according to polls and interviews with stakeholders from both parties. The Covid lockdowns have had an outsized effect in this state, which relies heavily on service sector workers. As the economy rebounds, working-class voters are still suffering – the cost of housing remains high and employees complain about low wages. A recent bipartisan survey found that three-quarters of Nevada voters say the country is "going in the wrong direction" and 65% are "very or somewhat worried" about their own financial situation.
"People are being hammered by inflation and the cost of gas, food and housing," said Ted Pappageorge, secretary-treasurer of the influential Culinary Union, which represents some 60,000 workers in Las Vegas and Reno — 60% of whom are Latino — working in the state's service industry, including casinos.
"Is it going to be competitive, all the way? Absolutely," said Pappageorge, who backs the Democrats. "But all the misfortune of a red wave, we don't really believe in that. We're optimistic about this election, but it's going to take a lot of hard work.
In a written statement, Laxalt told NBC News, "The momentum behind our campaign is growing every day because Nevadans want change and they know I'm the only candidate in this race who can make it happen."
"Make everyday life unaffordable"
Laxalt's campaign sees economic pain as its ticket to victory, centering its strategy on portraying the incumbent as a puppet for President Joe Biden and approving huge spending bills.
"Sen. Cortez Masto has been a disaster for our economy and the people of Nevada want change," Laxalt spokesman Brian Freimuth said in a statement. has plagued our state with 15.4% inflation, costing every family in Nevada $10,000 this year.
In response, Cortez Masto shed light on Laxalt as a selfish politician who isn't interested in helping the state. "While I worked for the people of Nevada, my opponent worked for longtime DC lobbyists at a DC law firm that represents big oil companies who rip off our families. He supports Big Pharma," she said.
Cortez Masto said she worked to combat rising costs by voting for the Democrats' proposed Cut Inflation Act, which allows Medicare to negotiate drug prices with industry and raises funding to subsidize health insurance premiums.
As incumbent, she built up a formidable war chest and rose to renomination while Laxalt, the former state attorney general and scion of a political dynasty, had to pass a primary.
From June 15 to August 25, Democratic interests supporting Cortez Masto spent $20.4 million in the same weeks that GOP interests supporting Laxalt spent a total of $12.2 million, according to AdImpact, a company ad tracking. Still, she struggled to consolidate a lead.
Cortez Masto led Laxalt by 4 points (a margin that narrowed to 1 point in a head-to-head matchup) in a bipartisan poll conducted Aug. 16-24 by Fabrizio Ward and Impact Research.
The survey had another ominous sign for Cortez Masto, finding the nation's first Latina senator and other Nevada Democrats losing ground among Latinos, a crucial part of the party's past victories.
Cortez Masto said Latino voters care about the same issues as the broader electorate, such as "keeping their families safe, finding well-paying jobs and health care," and she pledged to "continue to do outreach in English and Spanish to our Latino community."
Laxalt is walking a tightrope between staunch supporters of former President Donald Trump and more moderate Republicans. Its strategy is to keep tight control of its message, avoiding national and local outlets other than conservative outlets like Newsmax and Fox News. (His campaign declined an interview request.) He has sought to play down issues that divide his party, such as abortion restrictions and his vocal support of Trump's push to challenge the 2020 election result.
Laxalt "led the effort to void the 2020 election for our previously defeated President Trump and he championed the insurgencies on Capitol Hill," Cortez Masto said. "I know it also focuses on restricting women's right to choose. There is an obvious contrast between the two of us.
Freimuth responded that "Adam does not support a national abortion ban" and accused Cortez Masto of seeking to "lie" on his record out of "desperation".
In a recent op-ed, Laxalt called it a "lie that I would support a federal abortion ban as a U.S. senator" even as he pledged to "support and defend life at all stages." . Laxalt has signaled its support for banning abortion after 13 weeks of pregnancy.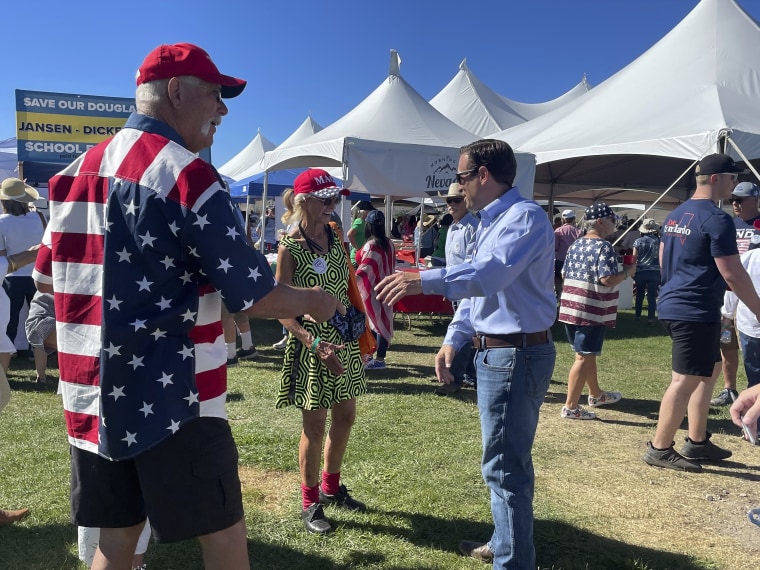 When asked if she supports restrictions on legal abortion, Cortez Masto told NBC News, "I support the Nevada law." State law allows abortion up to 24 weeks of pregnancy.
The paths to victory
Nevada's Republican strategists say the formula for a Laxalt victory is to dominate the state's vast rural areas, win Washoe County and hold its single-digit deficit in Clark County, home to the region. of densely populated, Democratic-leaning Vegas.
Conversely, Cortez Masto's main goal is to increase participation and achieve a big win in middle-class neighborhoods around Sin City's glitzy hotels and hit casinos. A University of Suffolk poll in mid-August showed her leading Clark County by 15 points, a margin that would put her in a strong position to win a second term.
Some question Laxalt's reluctance to speak to the media. "I wouldn't advise that," said a Republican source from Nevada, who was granted anonymity to speak candidly. "I think you have to get out of Newsmax and far-right media."
Still, the source acknowledged that Laxalt must "do something right" given how competitive the race is. Laxalt has avoided the litany of hopeful blunders and blunders in other battleground states that recently prompted Senate Minority Leader Mitch McConnell to publicly worry about 'candidate quality' affecting his party's chances.
Laxalt has sought to improve his image with a series of biographical ads that expose his family history, his past struggles with drug addiction, the fact that he was raised by a single mother and is a father with young children. It aims to counter the scathing commercials of Cortez Masto that unearth his youthful past and portray him as the spoiled son of powerful figures who took advantage of his relationships.
Cortez Masto picked his moments to counter his party. She broke with Biden over his recent executive action to give limited student loan forgiveness. She played a key role in knocking out a vaping tax from the Democrats' party line bill, calling it regressive.
The race could come down to whether the incumbent can continue to outperform Biden, whose approval is 18 points underwater here in the Fabrizio-Impact poll. In contrast, Cortez Masto's job approval rating is 5 points in the red. Its "favorable" rating was 3 points in negative territory, while Laxalt was 8 points in negative territory.
When asked if she wanted Biden to visit and campaign for her, Cortez Masto said she was "focused on getting things done right now in Nevada" and the needs of her state.
"POTUS is always welcome in my state, but my focus right now is on Nevada, first and foremost," she said.
nbcnews Gt
Not all news on the site expresses the point of view of the site, but we transmit this news automatically and translate it through programmatic technology on the site and not from a human editor.