[ad_1]

Hello. It is the first full day of the Labor conference in Brighton and so far it is not going well. Here is the Observer summary from my colleagues. Toby Helm and Michael savage.
And here is an excerpt.



Keir Starmer is fighting to restore authority over the Labor Party after a resounding defeat at the hands of the unions and the left provoked a storm of criticism for his performance as leader.

Ahead of a conference billed as the time when Starmer would present himself as future prime minister to the British people, the Labor leader was forced on Saturday to withdraw plans to limit the role of party members and increase that of parliamentarians in the futures selection. party leaders, after unions rallied in opposition to block the measure …

Starmer loyalists tried to talk about the leader's success in imposing other reforms that would make it harder for far-left activists to deselect Labor MPs. "He has blocked the hard left. This is a great achievement, "said one of the attendees.

But there was widespread consternation across all branches of the party at the way Labor had plunged into more divisive internal discussions just at the time when it hoped to point its weapons against the Tories and present its leader as a future occupant of the number. 10 …

Anger at Starmer's misjudgment of leadership rule changes has seriously damaged morale, even among shadow ministers who consider themselves scrupulously loyal. "This is a total disaster," said a frontbench member.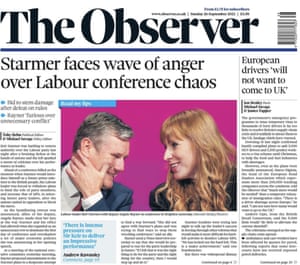 Still, things can only get better, as they used to say at these events. These are some of the other stories from this morning's Labor conference.



Employers in all sectors told me how much they need well-educated, relevant skills, and tech-literate young people.

And young people have told me how ambitious they are for their own future. "Labor reforms would mean that every child had a laptop at home. To ensure teens are fit to work, two weeks of work experience would be mandatory. And to prepare for the real world, mandatory citizenship courses would include pension planning, mortgage applications, and understanding credit scores and employment and rental contracts.
John McDonnell, the former shadow chancellor, has used an article in the Observer to say that "people have been left not knowing who or what the party represents" under Starmer.
Rachel Reeves, the shadow chancellor, told the Sunday Times (paywall) that she does not believe in the magic rules of money and that the Labor Party would apply its own fiscal rules. In your interview writing, Tim shipman and Caroline wheeler report:



A Labor government would balance day-to-day public spending, but would allow itself to borrow for capital investments. It is essential that you commit to reducing the national debt as a proportion of national income. Entering the 2008 financial crisis, it accounted for 38 percent of the UK's gross domestic product (GDP), rising to 60 percent when Labor left office in 2010. At the beginning of the Covid crisis, it was from 80 percent and now it's hit 98 percent of GDP …

Reeves has two more rules that will give him more leeway: Labor would take government assets into account when examining the books, discouraging the sale of taxpayer-yielding assets, a move that is supported by the government. the new head of OBR, Richard Hughes. (She wants us to know "it means he's not crazy").

Finally, the OBR could declare a crisis situation where all the rules are suspended for a period. Reeves argues that it's important to incorporate that scenario into the rules so that unexpected events don't just cause them to break. "It will be up to the OBR, not the government, to say that we are in a crisis," he explains.
Len McCluskey, a former Unite secretary general, said at a conference event that it is "almost impossible" for Labor to win the next election, the Sunday Telegraph reports.
Here is the main agenda for the day.
8.30 am: Angela Rayner, the Labor Deputy Leader, is interviewed on Sky's Trevor Phillips on Sunday. Other guests include John McDonnell, former shadow chancellor, and Christina McAnea, Unison secretary general.
After 9 am: Sir Keir Starmer is interviewed on the BBC's Andrew Marr Show.
9.50 a. M.: The conference opens. Ed Miliband, the alternative business secretary, opens a debate on the environment and the new green deal.
12.25 pm: Jo Stevens, the shadow culture secretary, speaks at the conference.
Time to eat: Jeremy Corbyn, the former party leader, will speak at fringe events at lunchtime.
14:15 h: Lucy Powell, the shadow housing secretary, opens a discussion on housing and transportation.
16: 30h: Jim McMahon, the shadow transportation secretary, speaks at the conference.
16.20 h: Delegates initiate a debate on changes to party rules, including the requirement that candidates for leadership be nominated by 20% of MPs, not 10% like now, and changes in the way they are vetted. disciplinary complaints (a response to criticism of the party by the Equalities and Human Rights Commission).
I am trying to monitor comments below the line (BTL) but it is impossible to read all of them. If you have a direct question, put "Andrew" somewhere and you're more likely to find it. I try to answer questions and if they are of general interest I will post the question and answer above the line (ATL), although I cannot promise to do this for everyone.
If you want to get my attention quickly, it's probably best to use Twitter. I'm in @ AndrewGorrión.
Alternatively you can email me at andrew.sparrow@theguardian.com
.

[ad_2]
theguardian Gt