Full-time: Rangers 2-0 Hearts
Rangers have won the Scottish Cup for the 34th time! It took a while, but in the end they were too good – and too fit – for Hearts. The match ended with two fine goals from substitutes Ryan Jack and Scott Wright at the start of extra time.
Hearts gave it their all and will wonder what could have happened if Ellis Simms had scored instead of hitting the post early on, but by the end they were well beaten. The fact that their best players were Craig Gordon and John Souttar tells a story. These two were heroic.
I have to rush to cover the Champions League final, but Tom Davies will bring you Hampden's reaction. Thank you, hello!
120 minutes Both Kent and Kamara are turned down by Craig Gordon, the (relatively) young Hearts keeper. He had a great game.
119 min: Replacement of the Rangers A beautiful sentimentality from Giovanni van Bronckhorst: he brought in goalkeeper Allan McGregor, 40, to play in a Scottish Cup final for the first time. All Rangers substitutes are on their feet to applaud McGregor.
117 minutes Simms' volley from the edge of the area deflects wide. The corner is cleared without the fuss.
113 minutes It's a soulful 15 minutes for Hearts players, who have no choice but to drag their weary legs across the pitch when it's an exercise in futility.
111 minutes Wright charges down the field then returns the ball to Sakala, whose low shot is smartly saved by Gordon. He probably should have scored. Wright has been such a threat since arriving in the second half of regulation time.
110 minutes Rangers pass the ball around, relishing that little magic window when you know something big is about to happen but it hasn't been confirmed.
106 minutes Craig Halkett is cautioned for a foul on Sakala. The hearts seem finished. They gave it their all and were great in the first half, but at some point in the second half it started to get too much.
106 minutes The second overtime period is underway. Fashion Sakala replaced Joe Aribo for Rangers, and Aaron McEneff replaced Cammy Devlin in Hearts midfield.
Half-time in extra time: Rangers 2-0 Hearts
Rangers are on course for victory after two fine goals from Ryan Jack and Scott Wright. I guess it's normal, with all the fatigue and injuries, that the game is decided by a few substitutes.
104 minutes I will have what Calvin Bassey has. He's played four hours of football since Wednesday night and he's still charging up and down the left like it's the first day of the season. Likewise Ryan Kent, who slides down the field and shoots above 25 yards.
103 minutes "Matt Dony has the nerve to talk about penalties in the World Cup play-offs between Scotland and Wales," says Simon McMahon. "The most blatant handball you've ever seen from Dave Jones at Anfield in 1977, and yet Wales fans are still talking about it 45 years later…"
101 minutes Hearts know it's over, they still cling, they don't know where they can go.
Substitute Scott Wright made it 2-0 after a ruthless Rangers counterattack. It was three against two, with Kent on the ball. He played it away to Wright, who took a touch and drove the ball unerringly into the far corner. Gordon didn't stand a chance.
His first touch wasn't the best, actually; but the second was flawless. Wright, who had a disappointing night at Sevilla, has played very well since his arrival.
GOAL! Rangers 2-0 Hearts (Wright 97)
Rangers are heading to their first Scottish Cup in 13 years!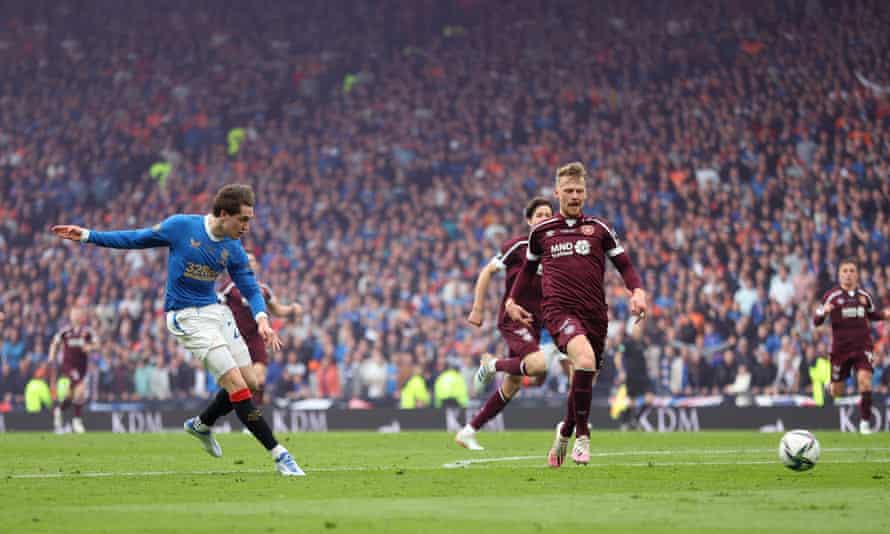 95 minutes There is no doubt that Rangers deserve to be up front. The first half was even but since then it's been pretty one-sided.
94 minutes "MORE extra time for Rangers? sniffs John Cropp. "I can hear my dad now: 'GIE'S a BREAK Rangers!!!' At three for the Gers in the next five minutes to FINALLY start the party!
Will we do it?
The corner of Tavernier from the left headed to the edge of the D, where Jack deftly controlled the ball and launched a drive up past Gordon. It hit the underside of the bar and flew into the net. I think Gordon was blind because it went directly over his head. He appealed for handball after the goal, although there appeared to be no hint of that on the replay.
GOAL! Rangers 1-0 Hearts (Jack 93)
Ryan Jack propelled the Rangers in the lead!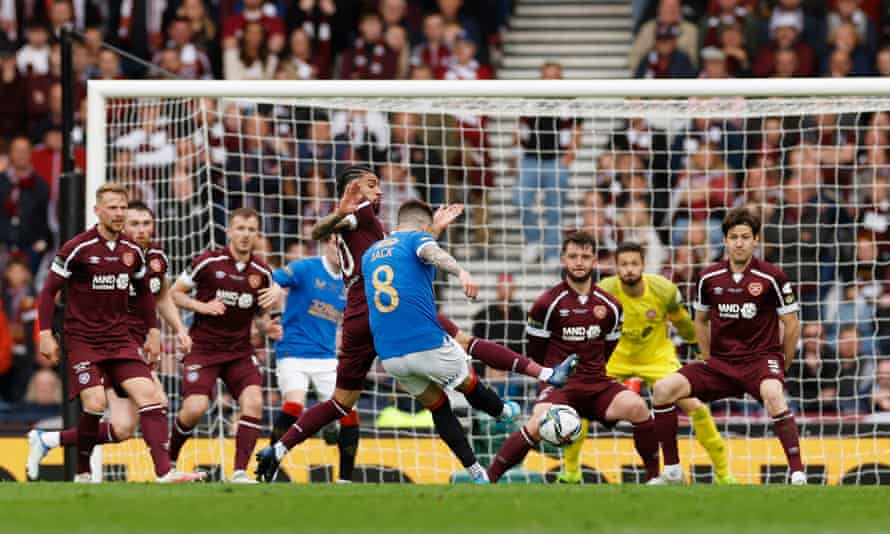 92 min: Chance for Rangers Another outstanding cross from Bassey is led by the stretch Aribo, six yards out. It's another great chance – not quite as good as Diallo's in the first half, but still perfectly up for grabs.
92 minutes "Ble mae Ramsey?" said Matt Dony. "There is a big but small part of me that is looking forward to a possible World Cup qualifier Wales against Scotland, with Ramsey Panenkaing the winning penalty in a shoot-out. Football really makes us bad people sometimes. If he's not going to get on the pitch, then go Hearts!"
91 minutes Extensions are in progress.
Full-time: Rangers 0-0 Hearts
For the second time in four days, the Rangers go into overtime.
90+3 mins It was such a brilliant save from Gordon, although Rangers will rightfully argue they should have had a penalty. It wasn't a subtle Atkinson shirt, but more of a partial undress.
90+3 mins: Wright hits the bar! Tavernier's free kick from the right is headed up the bar by Scott Wright! He did well to get in front of Kingsley and help him cross the goal, but he failed to dive the ball under the bar.
90+1 min: What a save from Gordon! He is a sensational goalkeeper! Aribo received a half-turn pass into the box, ignored a glaring shirt pull from Atkinson – which could have been a penalty – and hit a low drive to the far corner. Gordon, whose weight was slightly the wrong way, stretched his left leg to deflect the ball only passed the post.
90 minutes Three more minutes. Hearts players look absolutely broken.
90 minutes Rangers take a break, with Kent playing in the overlapping Bassey on the left side of the area. His cross is clear at the near post, and I won't insult your intelligence by telling you which Hearts defender was responsible.
89 minutes …and swing it right into McLaughlin's hands.
88 minutes Ginnelly gives the Hearts defense a break by winning a corner, then leads the Hearts end before it is taken. Kingsley will swing it from the right…
87 minutes Ryan Jack cowers from a distance. It was an ambitious attempt.
87 minutes Hearts cling to overtime. They look really tired now.
85 minutes Wright returns the ball invitingly to Lundstram, whose clean drive from 25 yards is brilliantly blocked by Souttar. He and Bassey have been wonderful.
84 min: Chance for the Rangers! Tavernier swings the resulting corner at the near post, where Balogun takes a run at Souttar and sends a header just over the bar. He grazed the roof of the net rather than hitting the back of it.
83 minutes Kent's center is led by the leaping Souttar, who played a very good game.
82 min: Replacement of hearts Josh Ginnelly replaces Barrie McKay, who passed out after a brilliant start.
81 min: Double substitution for Rangers Glen Kamara and Ryan Jack replace Steven Davis and Scott Arfield in midfield.
Ramsey oh, Ramsey oh, where are you Ramsey? Oh.
79 minutes Bassey beats Halliday with a Cruyff turn and is knocked down in the eyes of everyone but Willie Collum. Bassey had a senhernational game.
77 minutes "To avoid the 'heartache' of a penalty 'lottery', perhaps if the cup finals are still level after 120 minutes the trophy should just be 'withheld', as the Scottish Cup has summer in 1909," says Simon McMahon. "Then Gerry Scott would get his wish and both teams would really lose. And we could replace "no team deserved to lose" with "no team deserved to win".
76 min: Replacement of hearts Andy Halliday replaces Liam Boyce, who had a good game and is still feeling the injury he suffered last weekend.
75 min: Good save from Gordon! Bassey takes matters into his own hands and almost gives Rangers the lead. He passes McKay, cuts inside Souttar at the edge of the area and slips in a right footed shot which is repelled by Gordon, rushing to his left.
74 minutes Aribo throws a dangerous ball through the penalty area. A number of Hearts players were doubtful for this game, or have just returned from injury, and it could start to catch up with them. Rangers were by far the better team in the second half.
72 minutes Wright plays a good one-two with Aribo at the edge of the box, forcing Kingsley to cross and make a vital interception. Excellent defense.
71 minutes Boyce and Atkinson were a big threat down the right for the last 5-10 minutes. Atkinson is fouled by Kent about 45 yards from goal. McKay's free kick is a stinker, easily claimed by McLaughlin.
69 minutes Watch 56 mins.
theguardian Gt
Not all news on the site expresses the point of view of the site, but we transmit this news automatically and translate it through programmatic technology on the site and not from a human editor.