Protesters took to the streets in cities across the UK to rally against the Policing and Crime Bill, which is reaching its final stage in Parliament.
The Policing, Crime, Punishment and Courts Bill, sections of which have been condemned by human rights campaigners as an attack on the right to protest, will be voted on in the House of Lords on Monday.
Hundreds of "kill the bill" protesters gathered in London on Saturday, while protests also took place in cities including Bristol, Cardiff, Coventry, Newcastle, Liverpool, Manchester, Newcastle, Sheffield and Plymouth.
In the capital, protesters marched from Holborn to Parliament Square carrying signs that read 'stand up for the right to protest', while one protester carried a coffin with the words 'British Democracy – murdered by the Tories' printed on the side. Many also carried Extinction Rebellion flags.
Terry Matthews, 69, from south London, told PA Media: 'I think we are facing a really vitriolic attack on our rights to protest and our freedoms to show our displeasure with the status of the government and the country . And that's a really dangerous step to try to take.
Addressing the crowd in Parliament Square, Labor peer Shami Chakrabarti said the Bill's anti-protest provisions "represent the biggest assault on peaceful dissent in living memory". "This right-wing authoritarian government used to encourage pro-Brexit protests and statue defenders when it suited them," she said.
Chakrabarti accused the government of hypocrisy, saying it 'slams about free speech and complains about canceling culture' and other countries 'where basic rights are under attack' while cracking down rights in the UK. "Free speech is a two-way street. And you know what? The ultimate cancel culture, it doesn't come with a tweet — it comes with a police baton and jail time for nonviolent dissent," she said.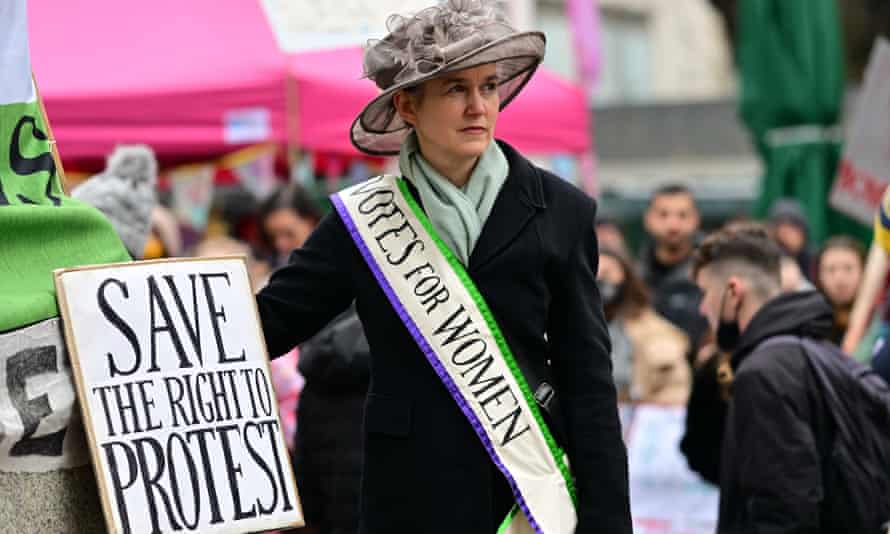 The bill's anti-protest measures give police the power to ban marches and demonstrations they consider "seriously disruptive", including those deemed too loud. Gypsy, Roma and Traveler communities would be effectively criminalized with measures prohibiting residing on land without permission, while police would also be granted expanded stop and search powers and penalties of up to 10 years may be issued for damage to memorials or statues.
Labor members of the House of Lords will oppose last-minute amendments to the bill, it was announced on Friday. Amendments added in November, which focus on new powers to control protests, include new offenses for 'locking down' – where protesters attach themselves to objects or each other – and would give police the power to prohibit named persons from demonstrating.

theguardian Gt
Not all news on the site expresses the point of view of the site, but we transmit this news automatically and translate it through programmatic technology on the site and not from a human editor.