World
Powerful magnitude 7 earthquake in western Turkey, mini-tsunami on the coasts – RT in english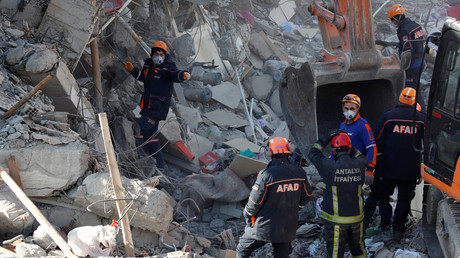 A powerful earthquake occurred in the Aegean Sea. Some buildings collapsed and a mini-tsunami hit the coast in Izmir and on the Greek island of Samos. The first images are appearing on social networks.
A powerful earthquake of magnitude 7 on the Richter scale rocked western Turkey on October 30 and caused the collapse of several buildings, according to the American Institute of Geophysics (USGS) and the Turkish media.
The tremor, which was felt as far as Istanbul and Athens, occurred in the Aegean Sea, southwest of Izmir, Turkey's third largest city, and near the Greek island of Samos. A mini-tsunami has hit the coast.
"At this stage, we have received information that six buildings have collapsed in Bornova and Bayrakli" in Izmir province, Turkish Interior Minister Süleyman Soylu said on Twitter.
"All our institutions have started to go to the scene to start the necessary efforts," President Recep Tayyip Erdogan said on Twitter.
Turkish televisions showed images of clouds of dust rising in the sky as locals rushed through the streets in panic.
Istanbul Governor Ali Yerlikaya said no damage was immediately observed in the country's economic capital.
According to AFP, the island of Samos in Greece is also affected. A mini-tsunami would also have reached the coasts.
Turkey is located in one of the most active earthquake zones in the world. In 1999, a 7.4 magnitude earthquake struck the northwest of the country, killing more than 17,000, including a thousand in Istanbul.
Last January, an earthquake of 6.7 killed around 40 people in the province of Elazig (east).
In 2011, an earthquake of 7.1 on the Richter scale was in the province of Van (east), killing more than 600.
Details to follow …