World News
Orlando Pride's Haley Carter: 'I feel like I hit the jackpot here' | Women's football
Orlando Pride's new general manager and vice president of football operations, Haley Carter, isn't afraid to address the culture change needed in the NWSL, including at her club. "There are consistencies that we should see at all levels: it has to be safe, it has to be inclusive and at that level it has to be a winning culture as well," she says. "I'm very serious about player defense, player safety and creating an inclusive safety culture."
Carter's resume is extensive, and with soccer in the United States undergoing reform after the NWSL abuse scandal, she arrives with ambitions to make Orlando a place "players want to be" as well as an NWSL Championship winning team.
A former US naval officer, Carter spent three seasons as a goaltender with Houston Dash. After retiring from professional football, she coached at many levels, including as assistant coach of the Afghanistan women's national team and goalkeeping coach of the Antigua and Barbuda women's national team, and was a scouting and recruiting consultant for Houston.
After meeting the staff and players and getting to know the setup in Orlando, Carter says she "always pinches herself."
"Some of the athletes here were playing when I was playing and some I've known since their time in Houston. We have a great group of extremely talented people in our technical staff, our support staff, our medical staff, the team itself, and I feel like I hit the jackpot here.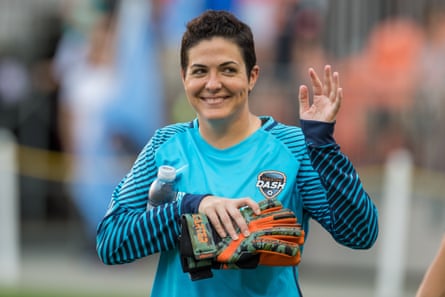 Despite Orlando's poor league form in recent years, the team finished 10th out of 12 teams last season, eighth out of 10 teams in 2021 and eighth of nine teams in 2020, Carter said, "The goal is always to win the NWSL Championship. This team, this roster, the staff, everyone who is here has a role to play; they each bring a unique skill set and talent. The work that was done to build the roster as we head into preseason, the work that was done to make the hires that were made in the offseason, from a personnel standpoint, all of those things are set up.
"And it's essential for us that every individual who is part of the club – athletes and non-athletes – is committed to believing that we can and will win an NWSL Championship. It's that simple. There will be intermittent goals throughout the season – it's a long season, a marathon of the season and a lot of things can happen – but everyone on the first day of the season is committed to believing that we can and will win the championships of the NWSL.
The key to success in the field is creating the right culture. "Now I'm on the management side of things, as opposed to the player defense side or the labor side, but those things aren't mutually exclusive," says Carter, a recent graduate from the University of Houston Law Center. . "We are in the business of people in professional sport, our assets are human beings, and therefore how we treat them is what drives the success of the club, and any impact on the player experience has an impact on the performance environment.
"So for me, there shouldn't be two opposing points of view (the management's point of view and the players' defense point of view); they really need to be in tune with each other. The way we treat players is essential to our success as management and as a club. So I try to have a holistic approach. It really is a high priority. Ensuring that we create a safe environment, not only for our players, but also for our staff, for everyone who comes in.
Part of that, from a player's perspective, is looking after their long-term ambitions. "We have to recognize that every player that comes to Orlando at some point is going to leave Orlando. That's the reality of the game. So whether they're traded, retired, or waived, every player that comes here will eventually come out here. Ensuring their stay in Orlando is a positive time and that they leave knowing that we invested in them, cared about them, treated them with respect and were invested in them. future for them is important.
"I told the team that we spend more years, most of us, unless you're Erin McLeod and you play until you're 40, not being professional athletes than to be professional athletes. So helping the players understand that my priority for them and the club's priority for them is to ensure that they develop not only as athletes, but also as people, is just as important as the development goals we have for them on the ground.
The big picture matters too. With Boston, Utah and San Francisco set to pay a record $50m (£40.7m) franchise fee to join the NWSL with new teams, the opportunity to grow the game is exciting.
"I'm a big fan of the expansion because we're also expanding the pool of players," Carter says. "More athletes will have the opportunity to play in the NWSL, which I think is fantastic. One of the things that attracted me to Orlando Pride is that the owner is very serious about improving everything in the league. these teams force everyone to be more serious about their culture and drive improvements so that the league is a destination players want to play in.
theguardian Gt
Not all news on the site expresses the point of view of the site, but we transmit this news automatically and translate it through programmatic technology on the site and not from a human editor.