USA News
World News
Orban extends his reach across the border to make TSC a football powerhouse in "Serbia-Hungary" | Soccer
OhAt first glance, there was nothing unusual when in October 2018, Viktor Orban attended the opening ceremony of the new football academy in a rural town. Hungary's prime minister has long pumped huge sums of money into his favorite sport, upgrading its infrastructure while other elements of government activity slide deeper into authoritarianism, and he was there to see the fruits of another new project. Orban attended a tournament between under-14 teams at the €9.5 million complex, staying long enough to present the winners with their trophies.
The problem: Orban was in another country. He was visiting Backa Topola, a small town in northern Serbia almost 30 miles from the border with Hungary, to show support for its local branch, the TSC. The surrounding region, Vojvodina, is home to nearly 185,000 ethnic Hungarians and many of them can apply for citizenship and vote in the country's elections. At last count, they represented 58% of the club's surrounding community.
The TSC had recently been promoted to Serbia's second tier at the time of Orban's inauguration. Since then, they have practically stopped growing. It's one of the continent's most surprising achievements: last season they broke the near-permanent duopoly of Belgrade giants Red Star and Partizan, finishing second in the SuperLiga, and after seven matches, they occupy first place in the 2023-24 ranking. On Thursday they face West Ham at the London Stadium, kicking off a Europa League group stage campaign that would have been unthinkable at most times in their 110-year history.
West Ham are strong favorites, but determining TSC's identity may be less straightforward. "It's a Serbian club helped by the Hungarians to reach the level we are at now," says TSC president Janos Zsemberi. "The Hungarian government has helped us and we benefit from their support thanks to the Hungarian community living here and nearby. But we are a Serbian club.
Zsemberi, a wealthy businessman, played a central role in the revival of TSC in 2013. They had, under different prefixes, been a capable presence in the Yugoslav second and third divisions, but fell into disrepair in the early years 2000 under the name AIK. Relations with Hungary's political elite were partly brokered by the late Ferenc Arok, a regionally born former Australian national team coach who became Orban's football adviser. TSC is now sponsored by Hungarian oil and gas multinational MOL; their academy was partly funded by the Hungarian FA and wider modernization was accompanied by a cash injection of around €30 million.
It's a figure unabashedly confirmed by Zsemberi, who points to the clever but tiny TSC Arena that was completed two years ago with about half those funds. There's no doubt they used money wisely: their impressive young manager, Zarko Lazetic, built on the work of Zoltan Sabo, who died in December 2020 after taking TSC to their first League qualifiers Europa, and the club's work is an image. of clarity in a scene of Serbian football which tends towards chaos and corruption. "We like to learn from others," says Zsemberi. "When someone wants to learn to become better, it's easy. But the problem here in Serbia is that few people want to learn new things."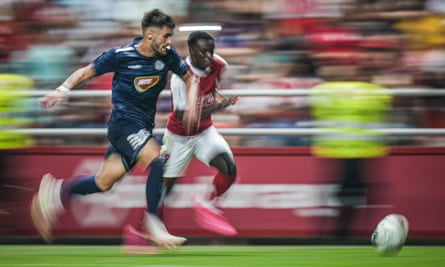 They have a lot of brains to choose from. TSC works closely with Puskas Academy, a lavish project based across the border in Orban's childhood village of Felcsut, which has its own successful senior team, and the network extends further widely. Serbia is not the only country with significant Hungarian pockets: there are more in Slovakia and Romania, where similar, heavily funded football projects have sprung up in these communities.
Hard borders offer little resistance to soft power. Transylvania club Sepsi was largely financed by the Hungarian government and the country's businesses; Having progressed through the system since its inception in 2011, they have won the last two Romanian Cups and narrowly failed to reach the Conference League group stage this season. DAC Dunajska Streda, a previously unremarkable club from the southeast of Bratislava in Slovakia, has become a constant title contender after almost a decade of involvement with Oszkar Vilagi, deputy general manager of MOL and close associate of Orban.
More established Croatian club Osijek returned to European competition after Lorinc Meszaros, an oligarch who runs Puskas Academy operations, entered the scene in 2016 and spent big. Many other smaller foreign clubs and academies also benefit from Hungarian aid.
"We all get money from the same sources, so we know each other from these meetings," says Zsemberi. "Our coaches and players share experiences and can always hear and see something different. I like this kind of cooperation and hope we will improve it more and more. This is not a multi-club property but the common links are unavoidable. Some of the benefits for Orban are clear: by creating brilliant and efficient football facilities and structures that have few rivals regionally, Hungarian nationalism and economic influence within its ethnic communities become considerably more pronounced. But the amounts of money actually sent abroad by his own country's taxpayers, at a time when satisfaction with public services is low, have not necessarily escaped his country's attention.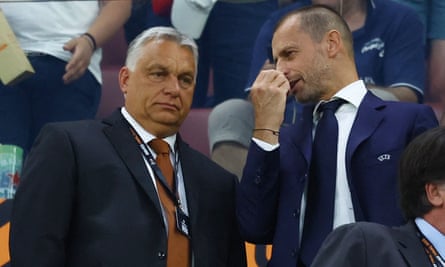 The success of the upstarts inevitably fuels local tensions. In Romania, a match between Sepsi and Universitatea Craiova last January was abandoned due to anti-Hungarian chants from visiting fans. TSC is not immune either. "On several occasions I heard rival fans shouting at us at away matches: 'Hungarian, Hungarian'," says Nenad Lukic, whose goals propelled them to Europe before joining Honved and his current club , Changchun Yatai. "But that didn't bother anyone. We didn't pay attention to these idiots.
The broader meaning is that, certainly in comparison with their peers elsewhere, TSCs are viewed favorably in Serbia. In a country where pitches and stadiums are poorly maintained, clubs are underfunded and players are often poorly paid on time, they are leading the way for those seeking a way out of seemingly terminal decadence. "People recognize a healthy sports project in which the club president invests a lot of money and energy," explains Lukic.
Orban and his partners have struck a chord, giving regions lacking success what they want. "I know some Serbs say they don't want to support TSC because it is funded by the Hungarian government," says Djordje Lakic, a TSC supporter since its lower division days and a former footballer. "But I always ask them why no one in Serbia has done this before. Why they, as local Serbs, didn't organize and get money to help the club. They had plenty of time. »
This may be true, even if they would not have shared Orban's political imperative. For now, the TSC presents a bridge between two countries that have forged stronger political ties under Orban and Serbian President Aleksandar Vucic, confirming a strategic partnership last year. This season's team is predominantly made up of ethnic Serbs, and Serbian is the language spoken during the workday.
Few expect TSC, beaten by Braga in the Champions League playoffs, to make a dent in a group that also includes Olympiakos and Freiburg. But Lazetic's team plays bold, skillful attacking football and has the ability to ask questions.
Zsemberi has a quick response to another; one that has little precedent at this point. When TSC line up against West Ham, will they represent Serbia or Hungary? "Both countries," he replies. "We invited the Serbian and Hungarian ambassadors to London and they said they would come. Our country is now Serbia-Hungary."
Additional reporting by Jovan Terzic
theguardian