New York Times headline on Conflans-Sainte-Honorine attack scandalizes internet users – rt in english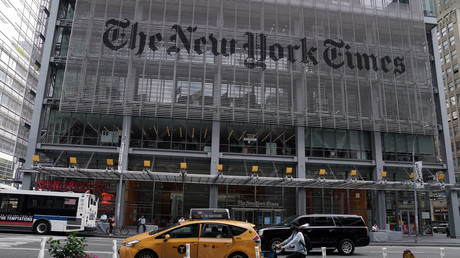 The daily across the Atlantic has been accused by several Internet users of euphemizing the death of Professor Samuel Paty by likening the terrorist to a victim of the police. Many have expressed themselves on social networks.
"French police shoot and kill man after fatal knife attack in the street." This is how the very serious New York Times had chosen to headline on October 16, 2020 an online article on the Conflans-Sainte-Honorine (Yvelines) attack, during which Professor Samuel Paty, 47, was cowardly assassinated by beheading.
A way of presenting the facts which could lead one to think that the terrorist was a victim of the police. In addition, the newspaper does not mention either that the man who was the victim of the "fatal attack" – the bombing – was a teacher, or that he was beheaded.
A bias that did not seem to appreciate many Internet users, who did not hide to express their dissatisfaction with the editorial choice of the daily across the Atlantic. "A college professor is beheaded for having blasphemed in France – the most secular of nations – and the New York Times title like that ", first remarked on Twitter Claire Lehmann, editor and founder of Quillette, an online magazine that defines itself as" a platform for free expression ".
The British elected to the London Assembly under the UKIP label in 2016, Peter Whittle, was much more offensive on the same social network. "This is how the New York Times, an increasingly detestable left-wing newspaper, spoke of the death by beheading of a teacher in France yesterday. Concealment and propaganda, "he thundered.
This is how the ever more loathsome left-wing New York Times has framed yesterday's decapitation of a teacher in France.

Dissembling and Propaganda pic.twitter.com/wOtxich18e

– Peter Whittle AM ​​(@prwhittle) October 17, 2020
In France, the journalist from Figaro Eugénie Bastié captioned on Twitter: "The art of denial in the American multiculturalist press."
On the art of denial in the American multiculturalist press: "French police shoot dead man after fatal knife attack in the street" https://t.co/N8tfArlTYo

– Eugénie Bastié (@EugenieBastie) October 17, 2020
If the daily, undoubtedly under fire from critics, has changed its title afterwards – French police kill man who beheaded teacher in the street – the French essayist seemed to see the same problem in the choice of words. "I am told that they have since changed their title, but the subject remains" the police killed "and the chapô" immediately set up as a martyr of freedom of expression "leaves me wondering …" she adds.
Gatherings are organized this October 18 in homage to Samuel Paty in several cities of France such as Paris, Bordeaux, Lille and Marseille.