USA News
World News
Max Verstappen rejects 'boring' label after Red Bull's F1 domination | Formula One
Max Verstappen has dismissed suggestions that the dominance he and Red Bull have shown in the Formula 1 world championship this season is unappealing to fans.
The world champion questioned critics' arguments that it was boring, arguing that their success should be appreciated because he and the team reached such a high level and that "real fans" would understand that.
Verstappen was speaking ahead of this weekend's Japanese Grand Prix, following Red Bull's first defeat of the season in Singapore. This is the only sign of weakness shown by the team, which has been dominant all season.
The Dutchman has won 12 of 15 meetings this season and Red Bull were undefeated throughout the year until Singapore where they were trailing and Ferrari's Carlos Sainz took the flag in an exciting fight rather than with ease which Verstappen demonstrated so much. times this year.
Red Bull has still only been beaten twice in the last 26 races, the previous time being at last year's Brazilian Grand Prix. At Suzuka, when asked if he thought it was good for the sport that Singapore had produced a new winner, Verstappen summarily dismissed the idea.
"It doesn't interest me at all," he said. "We were beaten and in a very clear way. I don't think about what's good for Formula 1. I don't think what's happening to Formula 1 is necessarily bad, because we were just better than everyone. If people can't appreciate that, then you're not a real fan.
"That's how it goes and that's why I was very relaxed, because we didn't play and other people did a better job than us and of course they deserve to win "They shouldn't win because people find it boring that we win."
Verstappen won the title last season and has been even more in control this year. He leads teammate Sergio Pérez by 151 championship points and a victory in Japan will almost certainly seal the title which he would almost certainly take at the next round in Qatar, with five races remaining.
Red Bull are also almost certain to win the constructors' championship in Japan, to do so they need to match the points scored by Mercedes and ensure Ferrari doesn't edge them out by 24 points.
The poor result obtained in Singapore should be an exception, a circuit which did not suit their car and to which they had difficulty adapting its settings. Suzuka is strongly expected to mark a return to form for the team, with the high-speed corners particularly favoring the RB19.
Four-time world champion Sebastian Vettel returned to the F1 paddock at Suzuka to promote his support for biodiversity. Vettel worked with a local carpenter to build 11 "insect hotels" on the inside of turn two. The borders were also painted black and yellow in homage to the bee that Vettel described as the "ambassador" of his project which he called Buzzin' Corner and which he hopes to extend to other circuits at 'future.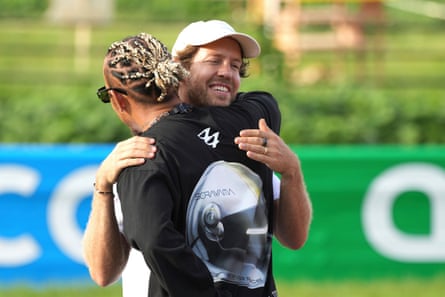 "We all know a very famous insect, it's the bee, and the bee is yellow and black," he said. "It is the perfect ambassador for this project and this idea to highlight the importance of biodiversity because it does not only represent the bee, it represents all the other insects.
His actions were praised by Lewis Hamilton who hoped they would serve as an inspiration to other F1 drivers to connect with issues outside the sport. "It's great to see he's found his purpose," Hamilton said. "In the history of the sport, I don't know of any other driver who has ever shown such outspokenness and real compassion for the world outside of this small world we live in. It's great he uses his platform, I'm always happy with I hope he inspires other drivers to do something in their own way.
theguardian