World News
Kwarteng's 'shock and wonder' entry leaves Treasury reeling | Kwasi Kwarteng
Kwasi Kwarteng's 'shocking and wondrous' approach to taking over as chancellor has sparked nervousness among officials over fears that his close relationship with the prime minister and the two most senior civil service posts left unfilled will not be filled. mark a period of turbulence for the Treasury.
Amid fears the UK is on the brink of recession, the aftershocks of Tom Scholar's sacking as permanent secretary have left many civil servants feeling raw and concerned about the direction of the Treasury.
They said it was proof he was ready to emulate Liz Truss, who earlier this week said she was ready to be unpopular for the sake of driving through what she thought were okay changes for the country.
A Treasury official said the building was "still angry and genuinely shocked" by Scholar's sudden departure and truly lacked seriousness as Kwarteng rushed in a whole new economic direction and sweeping tax cuts without the full costs are made public.
Another said staff were "very, very upset" with the way Scholar was being treated – some were even said to be "in tears" and what they believed to be a "shock and scared" approach to asserting control.
A third Whitehall insider suggested that Scholar could have 'made a fuss' about Kwarteng pushing ahead with significant tax changes despite a lack of cost evidence, given that the Office for Budget Responsibility does not is not expected to release forecasts on Friday. "It seems a bit like we avoid having our own homework corrected," sighs a Conservative MP.
The roles previously held by Scholar and his former deputy, Charles Roxburgh, remain vacant. Two managing directors have been co-opted to lead the department.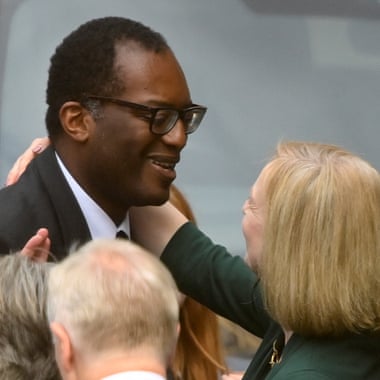 Giles Winn, who was special adviser to former Chancellor Philip Hammond, recalled how Kwarteng was the Parliamentary Private Secretary at the time – a ministerial aide meant to be their "eyes and ears" among his colleagues.
"The leadership race exposed a deep division within the party on fiscal policy that was somehow overshadowed by other events," Winn said. "The Chancellor will be key to healing this divide over time – and Kwasi will certainly be aware of that."
Winn added that keeping the party together would be "a priority" for Kwarteng, but that a closeness between him and Truss dating back many years could make life more difficult for Treasury officials.
"There must be a healthy tension between the prime minister and the chancellor," he said. "It is natural for a Prime Minister to want to spend money, but the Chancellor needs to have an eye on the long term and not let the debt balloon out of control. You need a Chancellor who will push back and fight this corner in these bilats with the Prime Minister.
"Kwasi has a much closer relationship with the prime minister, and now they could just pick up the phone and have a chat, or meet up for a drink and a chat without politicians in the room."
A former senior Treasury official also expressed concern over the interplay between the government's tax cut and the Bank of England's interest rate hike, fearing the UK could slide into recession. "There will be considerable concern about the strategy and the direction that public finances are taking," they added.
Another long-serving Treasury official noted the elevation of the role of city minister, who has been decoupled from the Treasury's economic secretary and given to the financial secretary instead, Andrew Griffiths – bolstering his job to compete for the second most prominent position. in the ministerial team.
"Municipal work given to a more senior minister tells you a lot about where Kwasi is heading," they said.
theguardian Gt
Not all news on the site expresses the point of view of the site, but we transmit this news automatically and translate it through programmatic technology on the site and not from a human editor.