USA News
World News
King Charles addresses French voting chamber for first time in support of British monarchy | King Charles III
King Charles will address French lawmakers and senators in the upper house of the French Parliament on Thursday – the first time a British monarch has made a speech in a French voting chamber.
On the second day of his state visit, the king is expected to take advantage of his speech to the Senate to once again emphasize the strengthening of ties between France and Great Britain. At a lavish banquet at the Palace of Versailles on Wednesday evening, he said in a toast that it was "the duty of all of us to reinvigorate our friendship so that it is ready to meet the challenge of this 21st century."
The king's three-day visit to France is seen as a "soft power" follow-up to Rishi Sunak's drive to repair badly damaged Paris-London relations during a crucial Franco-British summit in March this year, which addressed issues such as the crisis. of people risking their lives to cross the Channel on small boats.
This confirms a crucial reset in Franco-British relations after the near-total collapse of trust and record levels of unease and resentment of the Boris Johnson years.
The king's speech was meant to echo that of his mother, Elizabeth II, when she visited the Senate in 2004 and said, speaking in the conference room rather than the voting room: "In a dangerous world, our two nations have so much to offer when we use our strengths together…Let us put aside our recent differences, as our ancestors did 100 years ago."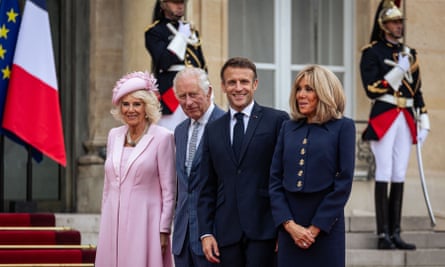 The king will then travel north of Paris to Saint-Denis – home to the French national stadium used for the Rugby World Cup and next year's Olympics – where he is expected to meet residents and sporting figures.
On the Île de la Cité on the Seine, Charles, an avid gardener who once admitted to talking to his plants, will visit a flower market named after his mother during his last state visit in 2014 .
From there, he will observe the renovation and reconstruction work on the neighboring Notre-Dame Cathedral, partially destroyed by a fire in 2019.
Nearly 1,000 people are working on the restoration of the cathedral, which dates from the 12th century. After the fire, Charles sent an emotional message to Emmanuel Macron saying he was "completely heartbroken", calling Notre-Dame "one of the greatest architectural achievements of Western civilization".
On Thursday, Queen Camilla and Brigitte Macron will launch a new Franco-British literary prize, which will be awarded from 2024.
The king and queen will say goodbye to the president at the Elysée before traveling to Bordeaux on Friday, where they will visit an organic vineyard and meet rescue workers and communities affected by the 2022 wildfires.
theguardian