WWhen Arsenal and England centre-back Leah Williamson speaks at the UN Sustainable Development Goals summit on Tuesday, she will feel a very different level of scrutiny from the pressure she feels when she enters the field. "Head up, face forward, don't drop your T's," she said with a smile beforehand.
Williamson is the first England women's national team player to take the stage at the UN, and it's an opportunity that might not have happened if the ACL injury she suffered suffered in April and which excluded her from the World Cup had not given her the chance. It's time to visit Za'atari refugee camp in Jordan, the largest Syrian refugee camp in the world.
That's where Williamson went in August to visit the joint initiative by Save the Children and the Arsenal Foundation which gives girls at the camp the opportunity to participate in a variety of programs through football.
"I've been talking about going to Jordan for a while," Williamson says from his New York hotel room. "They were on the radar. I've worked with the foundation and obviously been involved with the Coaching for Life program that they run for a while now.
"So as soon as I got injured, the way I sat down to deal with it – because at the end of the day it's just a task and you go in and come out the other side – I I planned everything out. We looked at when I needed to rest, and then we planned these trips around that. So it's great to be able to check off the boxes that I wanted to do, but also give back in a way like that.
When Williamson finally returns to the field, the desire is to keep a balance that allows the 26-year-old to do more work for the community and foundations. "When you are injured, you show yourself that there is a balance to be found," said the England captain. "But it's all about performance, it's about being ready every day. You can do it (find that balance), but with game programming it makes it a lot harder. So, I wouldn't ever be happy about being hurt, but this time, these experiences and giving back are important.
Hearing about the lives of the girls they work with can be difficult. "I find it really difficult," Williamson says. "Because naturally in the world, when someone brings a problem to your attention, you want to try to help them solve it – and it's obviously not as simple as that. The most difficult moments were discussions with parents during some sessions to help them understand why their daughters should be allowed to play sports.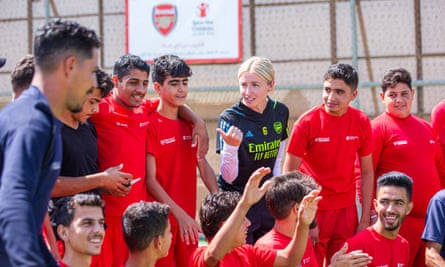 "It started off as a really good conversation, just listening to their perspectives on how it's changed for them and how much they like their daughters to be involved. Then one of the dads basically said that because they have this confidence now and they're making their way in the world, then maybe he should leave to look for an opportunity for them. We all know what it means to leave a refugee camp, the risk to life, the journey, even crossing the sea.
"It struck me, because they have these dreams but ultimately circumstances and the birthplace lottery set them back from us. It breaks my heart every time because none of us know what's next for them.
Williamson is used to telling girls to follow their dreams and find their passion, but she can't say those things in the Za'atari camp. "You can't tell a child, 'Dream as big as you want.' I can't give them that assurance, which is difficult.
Football camps there may not offer a certain future, but they can provide a sense of escape. "It's universal," Williamson says. "When I step on a pitch, no matter what I think about beforehand, as soon as I step on that pitch, everything disappears. It's not a conscious effort, it just takes away all your worries and thoughts. And I think, for them, it's obviously just a massive, massive thing, especially combined with the resilience sessions that they're doing.
Williamson is no stranger to speaking out – she was part of the England team that won the Euros last year and subsequently demanded equal access to sport for boys and girls in the schools. Although she likes to be outspoken and activist, she gets frustrated by conversations about it. "People will say, 'Get bored of your activism' or 'Just play the game.' I say to myself: "This is life. This is life and these are the conversations of real life and circumstances. There's no story, there's no drama, it's black and white: this is how we are treated, and this is how we should be treated, and the majority of the population agrees with us.
"We are still faced with situations, like in Za'atari, with a refugee camp full of people fleeing war. So when people talk to me about it, I just think, "Why doesn't everyone want to live in a better world?" Why wouldn't you contribute if you could? "That's why I'm not comfortable with the way the word activism is used, because I think that's exactly how normal people should behave."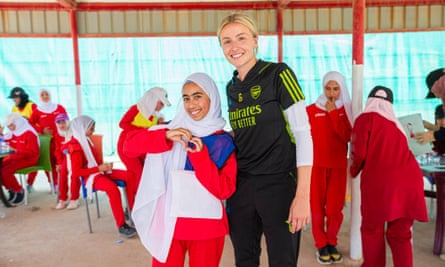 Seeing the struggles of the girls in the Za'atari camp also puts into perspective the challenges at home. "When people say 'no' to me here, now I think: 'No? Really?' Because if we can do it there, we can do it here," says Williamson. "There's no reason to stop here, it's just an opinion or someone who disagrees, instead of real obstacles, like not having a home. I try not to compare because that would drive me crazy or make me feel even more worthless.
"But to try to change for the better, I'm like, 'You're going to have to give me a better reason than 'no' now, because when I've asked for something that I think is worth it, it's achievable . I know he is.'"
theguardian