More than 260 Ukrainian soldiers, many of them wounded, have been evacuated from the beleaguered Azovstal steelworks in the port city of Mariupol, appearing to hand over control of the city to Russia after 82 days of shelling.
Ukrainian Deputy Defense Minister Hanna Maliar said late Monday that 53 seriously injured soldiers had been evacuated to a hospital in the Russian-controlled city of Novoazovsk. More than 200 others were transported through a corridor to Olenivka, Maliar said.
The General Staff of the Armed Forces of Ukraine said that the soldiers defending the steel plant had "completed their combat task" and that the main objective now was to save the lives of the personnel. By holding the steel mills, they prevented Russian forces from quickly capturing the southern city of Zaporizhzhia, according to its Facebook post.
It was unclear how many soldiers remained at the steel plant, but Ukrainian President Volodymyr Zelenskiy said: "We hope to save the lives of our boys."
"I want to emphasize: Ukraine needs its living Ukrainian heroes. This is our principle," he said in a video statement.
The evacuation will likely mark the end of the longest and bloodiest battle of the Ukrainian War and a significant defeat for Ukraine. Mariupol now lies in ruins after a Russian siege that Ukraine says killed tens of thousands of people in the city.
For Ukrainians, the Azovstal factory has become a symbol of resistance, with hundreds of soldiers continuing to fight there even after the rest of the city fell to Russian forces. It is believed that some 600 soldiers were inside the steelworks.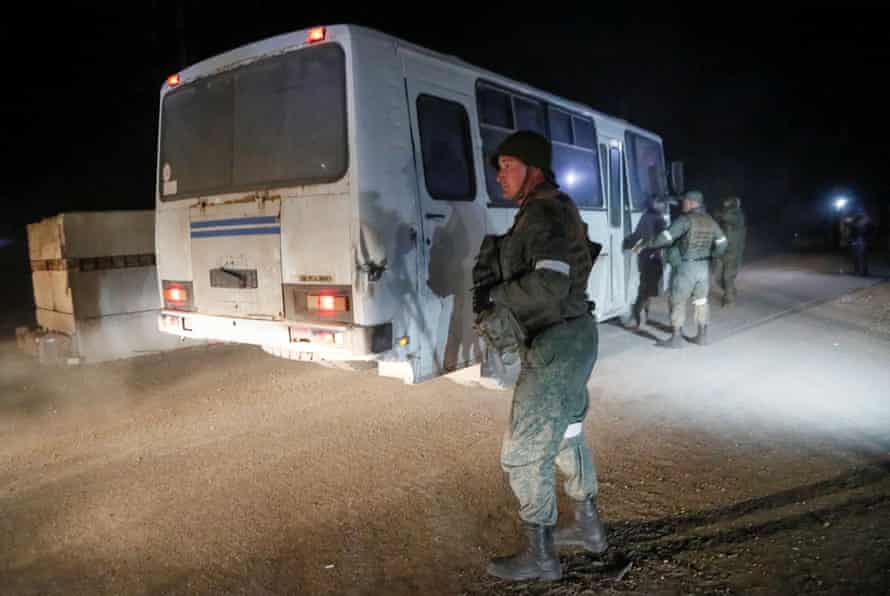 The Azov regiment said it was carrying out orders to save the lives of its troops.
The regiment, which once had far-right nationalist affiliations, was a militia formed to fight the Russians after the 2014 invasion of Ukraine but became a unit of the Ukrainian national guard.
He said his troops in Mariupol, on the Sea of ​​Azov in the southeast, held out for 82 days, buying time for the rest of Ukraine to fight Russian forces and obtain the Western weapons needed to resist. attacking Moscow.
Hours before the evacuation, Russia said it had reached an agreement to evacuate injured soldiers. "A humanitarian corridor has been opened through which wounded Ukrainian servicemen are transported to a medical center in Novoazovsk," the Russian Defense Ministry said.
The last defenders of Azovstal had held out in bunkers and tunnels built deep underground to withstand nuclear war. Civilians were evacuated from inside the factory, one of Europe's largest metallurgical facilities, earlier this month.
The wife of a member of the Azov regiment described conditions at the factory earlier on Monday: "They are in hell. They receive new injuries every day. They are without legs or arms, exhausted, without medicine," said Natalia Zaritskaya.
While evacuations from Azov were underway, fighting continued on front lines across Ukraine.
In eastern Ukraine, at the center of Russia's military campaign, nine civilians have been killed in attacks on Donetsk, the region's governor has said.
A series of explosions also hit the city of Lviv in western Ukraine, with reports of around 10 blasts in quick succession.
Ukraine said troops defending its second-largest city, Kharkiv, pushed back Russian forces and advanced to the border with Russia. The reports could not be immediately verified.
With Moscow showing no signs of letting up nearly three months after its invasion, Finland and Sweden were poised to relinquish decades of military non-alignment by joining the NATO military alliance.
The move is meeting with resistance from Turkey, with President Recep Tayyip Erdogan confirming his country's intention to block applications, accusing Finland and Sweden of harboring terrorist groups, including banned Kurdish militants.
Japan's chief cabinet secretary, Hirokazu Matsuno, said on Tuesday he respects Sweden's "serious decision" to seek NATO membership because Russia's invasion of Ukraine was an issue affecting not only Europe but also the Indo-Pacific region.
Russian President Vladimir Putin said that while Finland's and Sweden's NATO membership posed "no direct threat to us", he warned that "the expansion of military infrastructure in these territories will certainly cause our reaction".
In other developments:
The US Air Force said on Monday it successfully tested a hypersonic weapon on Saturday off the coast of California. The United States already tested a hypersonic missile in March but did not disclose it until later, apparently for fear it would stoke tensions with Russia. Russia has fired hypersonic missiles at targets in Ukraine. Their speed and maneuverability make them difficult to track and intercept.

The US Senate voted in favor of an additional $40 billion in aid for Ukraine in its war against Russia, setting the stage for a vote on the bill possibly later this week.

EU foreign ministers have failed in their efforts to pressure Hungary to lift its veto on a proposed oil embargo against Russia.
Reuters and Agence-France Presse contributed to this report
theguardian Gt
Not all news on the site expresses the point of view of the site, but we transmit this news automatically and translate it through programmatic technology on the site and not from a human editor.