Gérald Darmanin should demand the expulsion of 231 foreigners on file for radicalization – RT en français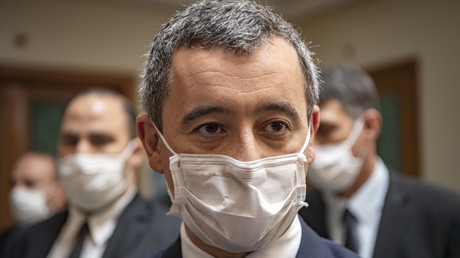 The Minister of the Interior summoned all the prefects of France following the beheading of a teacher by a Chechen refugee. According to Europe 1, he will ask them to expel 231 foreigners who are in the FSPRT.
As a corollary to the Conflans-Sainte-Honorine (Yvelines) attack, in which Professor Samuel Paty, 47, was assassinated by beheading on October 16 after showing his students caricatures of the Prophet of Islam Muhammad as part of a course on freedom of expression, the Minister of the Interior Gérald Darmanin convened on October 18 by videoconference all the prefects of France.
According to information from Europe 1, Gérald Darmanin will demand from the prefects in the coming days the expulsion of 231 foreigners who are in the file of reports for the prevention of terrorist radicalization (FSPRT). These 231 deportable foreigners – 180 are currently in prison and 51 at liberty – will be subject to arrest shortly.
The Minister of the Interior also went to Morocco on October 16 to discuss in particular illegal immigration and the issue of unaccompanied minors, their identification and their follow-up. According to Europe 1, he would have also "asked Rabat to recover nine of its radicalized nationals in an irregular situation".
"[Lorsque les migrants] are of legal age, we agreed that it was normal to continue, despite the Covid crisis, to have them return to Moroccan territory, and when they are minors, to continue to [les] protect them and be able to bring them back when possible, to their families in Morocco or to Moroccan educational centers, "he declared on occasion.
In addition, Gérald Darmanin will undertake similar trips to Algeria on October 18 and 19, then to Tunisia the following week. "[Il] will bring in his luggage a list of Islamists that France wants to expel ", and will be accompanied by the Director General of the Directorate General of Internal Security (DGSI), Nicolas Lerner, still according to Europe 1.
Is it a simple communication stunt aimed at satisfying public opinion on this burning affair that has gripped the French, or a real change in political doctrine?