Emmanuel Perrotin organizes a free treasure hunt at the Grand-Palais
The gallery owner Emmanuel Perrotin took another rabbit out of his hat: on Saturday 24 and Sunday 25 October, he is organizing a treasure hunt at the Grand Palais with, as a result, twenty works donated by the artists he represents. They will be hidden by his teams in the 16,500 m2 of the nave, which should have hosted the International Contemporary Art Fair (FIAC) – canceled due to a pandemic – at that time.
Some are editions, multiples, but others are original: "These are the artists who have chosen, he said. Gregor Hildebrandt decided it would be a large granite piece, which depicts Marylin Monroe. Bernard Frize or Daniel Arsham also wanted to give unique pieces. "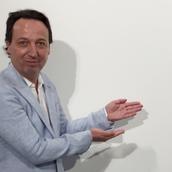 Also listen Emmanuel Perrotin: "My snobbery was to have set up a gallery without painting"
Those that their dimensions would make difficult to hide will be physically represented by symbols, "items", and exchanged for the original from the lucky discoverer. The value of the works ranges between 1,000 euros and several tens of thousands of euros, but participants should not count on the windfall effect: by contract, they will be prohibited from reselling their find for five years.
In addition, if several participants claim the same discovery, they will be determined by a questionnaire relating to the artist in question: "As long as I do, I prefer that the work falls to the most motivated, to someone who really likes it", specifies Mr. Perrotin.
Free participation
All this is explained in a three-page document, which specifies the terms of this new kind of "competition". The event, titled "Wanted! », Was announced on social networks Thursday, October 15, around 4 pm. At 6 p.m., says Perrotin, "There were already 1,200 registered! ".
Because, if participation is completely free, prior reservation is required. It will cover a period of fifty minutes, the duration of the game for each group, which will not exceed 500 registrants. That is to say twelve periods in all during the two days of the event. Each time, the works discovered will be replaced by new ones, within the limit of the twenty announced. They are visible on the gallery site, which will prevent you from grabbing a fire extinguisher by mistaking it for contemporary art.
Read the portrait (in 2013):
Emmanuel Perrotin, the cowboy of contemporary art
Why such an operation? Emmanuel Perrotin does not hate advertising – although after selling a banana taped to the wall at the last Art Basel fair in Miami, in December 2019, for $ 120,000 on the wall as indicated by artist Maurizio Cattelan, he did not hardly needed.
You have 35.45% of this article to read. The rest is for subscribers only.