61 minutes: Rangers fans, nervous and quiet since half-time, are now in party mode as Toure receives treatment for a head injury. This came from a clash with Aribo, which the Rangers striker is booked for.
59 minutes: Tuta left – possibly out of embarrassment – replaced by Makoto Hasebe, which will likely result in a form change. Eintracht almost equalized straight away, Lindstrom's shot was saved by Bassey – there are more big calls for a penalty, but this time they are unwarranted.
He came out of nowhere – Trapp's clearance is headed forward by Goldson and then sent back by Sow – but as Tuta moves to control the ball he gets tripped, and suddenly Joe Aribo is on goal! He takes a touch, opens his body – and shoots low past Trapp. Behind him, the Rangers fans are going wild, and that's understandable!
GOAL! Eintracht Frankfurt 0-1 Rangers (Aribo 56′)
We have a goal! Repeat, we have a goal… and it's the Rangers who are taking the lead!
55 mins: … and Rangers have a clear view of the goal at the other end, Aribo on Ryan Kent leaving – but he's shooting his shot high and wide!
54 minutes: Replays show Goldson failing to win the ball and making contact with Borré – but there is no VAR cancellation. I think it's a penalty. The Rangers may have gotten away with one over there…
52 mins: Borré bursts into space beyond Goldson, who tries to push the ball behind but seems to cut off the Colombian, who descends into the box! But the referee only points for a corner…
50 mins: Kamada, who has not yet really imposed himself in the game, is signaled offside. Rangers go up the field, Aribo joins Lundstram, but his pass to Tavernier is exceeded.
48 mins: Frankfurt are pushing hard for a game opener now, and they're closing in sharply as Lindstrom turns and shoots. His effort cuts Kamara's heels and flies just wide of the post, with McGregor caught off guard by the deflection.
47 mins: These resourceful Frankfurt fans managed to unleash a charge of red flares, filling one end of the stadium with smoke. There are also some nifty banners unfurled – one of which appears to say "eff Uefa". He is quickly shot by a surveillance steward.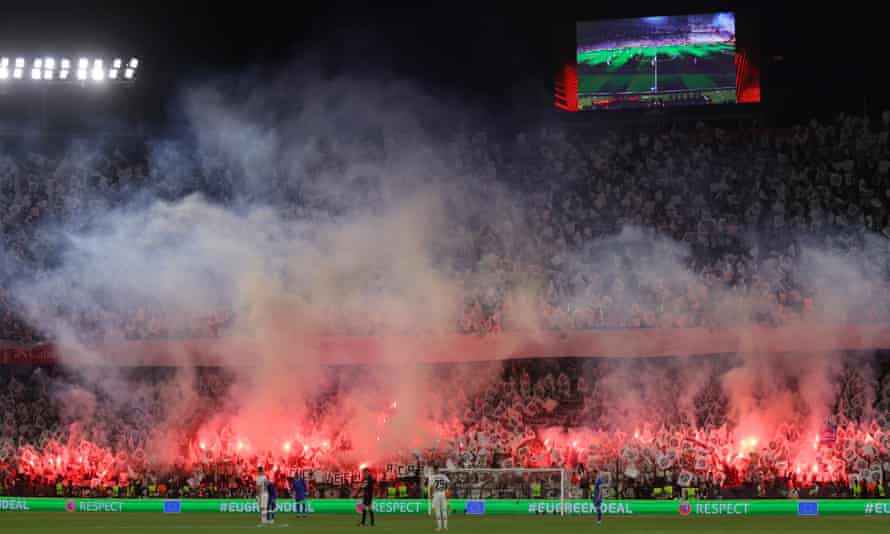 46 mins: Knauff sails down the right flank, but his cross is cut and Rangers clear the corner.
Both teams climb the steps and return to the field for the second half. No change from either manager, and in this half both teams are playing against their own fans.
Long-distance races to celebrate with fans would be a treat in the era of VAR. Which gives me an excuse to share this A-League gem.
Did you know? You can sign up for sports alerts and get notified on your phone after this game is inevitably settled on penalties. Plus the latest news, transfers, match results and more!
"One of the worst finals you'll ever see," fumes John Ryan. "We could be here until next Wednesday waiting for a goal."
Ah come on now, it hasn't been that bad – but after attending Arbroath against Inverness last Friday and then the (admittedly entertaining) FA Cup final, I'm starting to forget that goals are actually possible in open play.
Half time! Eintracht Frankfurt 0-0 Rangers
It was intriguing, even electrifying, with both teams feeling each other. Eintracht had the better chances but Rangers leveled off after a shaky start. It's still very up for grabs.
50 mins: Frankfurt win a late corner but Rangers do enough to clear it. And that's your lot for this half…
48 mins: Lundstram is now further forward, joining Jack and Kamara in midfield. Knauff tries to clear on the right flank, but Barisic sees him go with a well-timed tackle.
47 mins: Ryan Jack tried from the edge of the area, and it's a decent effort, darting to the far corner but ultimately diving too late.
45 mins: There will be six extra minutes, after that long period of treatment required for Rode at the start.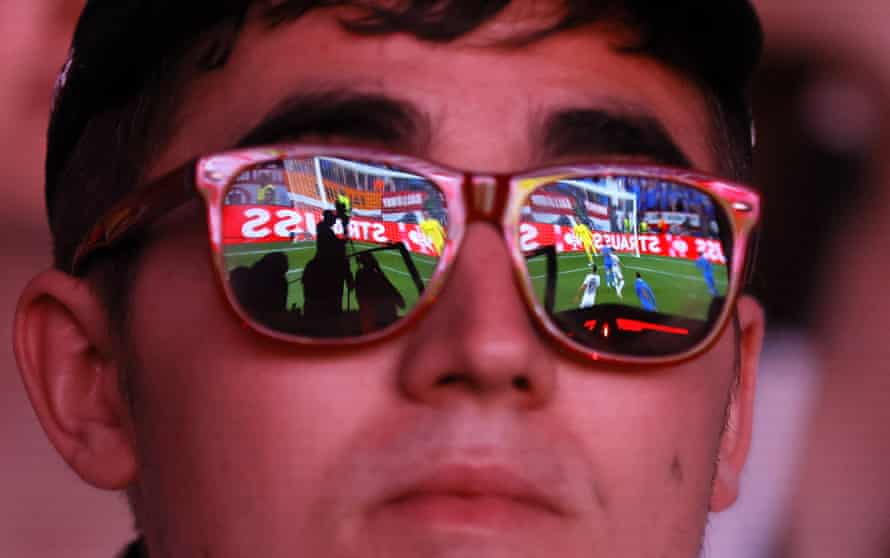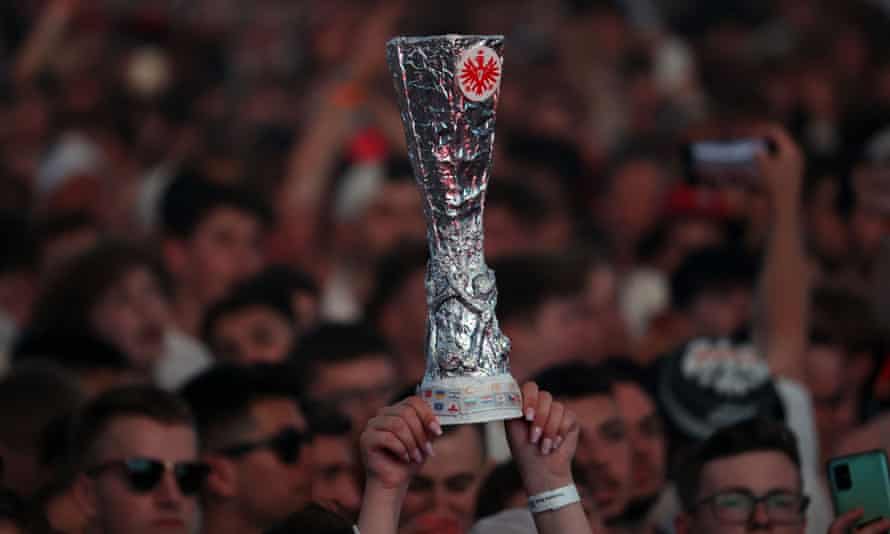 44 mins: Bassey ducks to clear a turn, narrowly avoiding contact with a high boot.
43 mins: Tavernier loses the ball and brings Kostic back – but the easy-going man in the middle, Slavko Vincic, keeps his yellow card in his pocket.
42 mins: Barisic plays the ball into Aribo's feet, and it falls to the edge of the box. The referee dismisses his calls and replays show he muscled in on Tuta before passing, with the centre-back doing little more than standing still.
39 mins: Rangers grew into the game in the final 10 minutes, and Tavernier has another chance to whip a free-kick – but he drifts past Lundstram at the far post. They keep the ball and move it to the middle of the field, whistles from the white wall in front of them.
37 mins: Bassey is pulled back by Lindstrom, ending a brief period of pressure from Frankfurt. Rangers move upfield and Wright's low cross is cleared.
35 mins: Barisic with the ball from the left, which loops over Lundstram's head. It's an awkward chance but he gets it on target, forcing Kevin Trapp to knock the bar down. The corner gives nothing, Tavernier penalized for having rushed Kostic.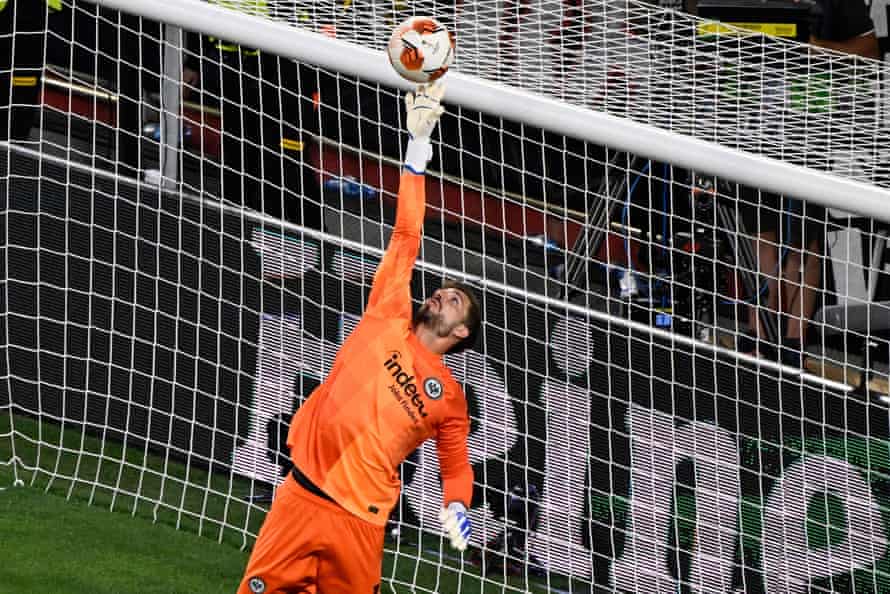 34 mins: Rangers push, pressing Evan N'Dicka and forcing the defender to concede a corner. Nothing comes out of it initially, but Ryan Kent collects the ball and slaloms past Sow, who drags it down. Another free-kick opportunity…
"Sebastian Rode could end the night not just with a medal, but also with a nice scar on his head that he can say his grandchildren won against the tough men of Glasgow," Justin Kavanagh writes of the first John Lundstram's challenge, a classic example of the 'Glasgow press'.
31 mins: Kostic has a long shot, his effort slashing the side netting. Moments later, he pounced on a weak header from Tavernier and ran 70 yards downfield – but dragged his shot away from the far post.
29 mins: Eintracht win a free-kick and Kostic's delivery puts Bassey in a tight spot. The centre-back regroups behind at the far post with two players in white shutting him down. From the corner, Lindstrom's half-volley skids through the crowd but ends up hitting Kamada, who is offside.
27 mins: It's time for a well-deserved refreshing break on a hot and humid night in Seville. Mine is a Sprite.
25 mins: Joe Aribo is getting closer to the Rangers! More impressive work from Wright, who singles out the striker with an assist before being cleared by N'Dicka. The referee plays the advantage and Aribo loops his effort one meter from the far post. N'Dicka, somewhat unlikely, does not appear to have been warned.
"I've never seen anyone take so long to decide which way to kick as Tavernier did there," Dan Christmas said of the toss. The Rangers captain made the right call in the end I think – they will play against their fans in the second half.
theguardian Gt
Not all news on the site expresses the point of view of the site, but we transmit this news automatically and translate it through programmatic technology on the site and not from a human editor.