World News
Eco group slams Davos summit as global elites arrive in private jets to talk climate policy
Greenpeace International, a global climate group that opposes fossil fuels, released a study showing that elites largely travel to the annual World Economic Forum (WEF) conference via private jets.
The analysis – released late last week by Greenpeace and environmental research firm CE Delft – showed there was a significant increase in private jet flights, many of which were short-haul, to nearby airports of the WEF headquarters in Davos, Switzerland, during the 2022 summit. The group released the study ahead of the 2023 WEF summit, which is expected to start this week.
"Europe is experiencing the hottest January days on record and communities around the world are grappling with extreme weather events supercharged by the climate crisis," Greenpeace activist Klara Maria Schenk said in a statement on Friday. . "Meanwhile, the rich and powerful are flocking to Davos in ultra-polluting and socially inequitable private jets to discuss climate and inequality behind closed doors."
"Davos has a perfectly adequate station, but these people can't even bother to take the train for a trip as short as 21 [kilometers]", she continued. "Do we really believe that it is people who solve the problems facing the world?
WORLD ECONOMIC FORUM PRESIDENT KLAUS SCHWAB SAYS ON CHINESE STATE TV: 'CHINA IS A MODEL FOR MANY NATIONS'
The study determined that 1,040 private jet flights were recorded arriving and departing from seven airstrips near Davos during WEF 2022 conference week. Private jet air traffic in the region represented an increase of approximately 500 private flights compared to the weeks before and after the conference. Therefore, Greenpeace estimated that those 500 flights, or 48% of all private jets in the region that week, were carrying conference attendees.
A significant number of jets recorded short-range flights, with dozens traveling less than 100 kilometres, or the equivalent of 62 miles, to Davos. Greenpeace argued that the majority of flights could have been replaced by train journeys.
PETE BUTTIGIEG FLY OFTEN ON TAXPAYER-FUNDED PRIVATE JETS, FLIGHT DATA SHOW
Additionally, private jets flying in the Davos area during forum week 2022 emitted 9,700 metric tons of carbon dioxide. The study attributed 7,400 metric tons to aircraft serving the conference. By comparison, the average person in the world has an estimated annual carbon footprint of four tons.
"Given that 80% of the world's population has never even flown, but suffers the consequences of climate-damaging aviation emissions, and the WEF claims to be committed to the Paris climate target of 1 5°C, this annual bonanza of private jets is an unpleasant masterclass bonanza in hypocrisy," Greenpeace's Schenk added.
"Private jets must be history if we are to have a green, fair and safe future for all," she said. "It's time our political leaders started leading by example instead of producing hot air in secret meetings with big business."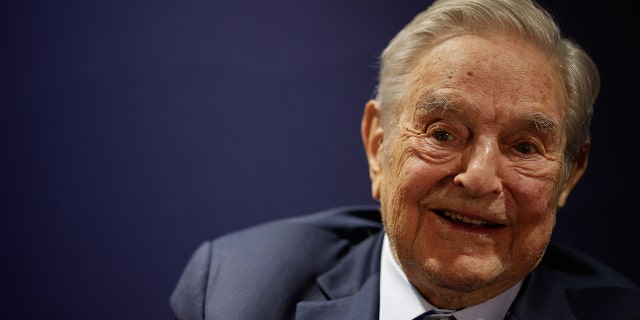 On Monday, in protest at the heavy use of private jets by WEF attendees, a local Swiss environmental group led a four-hour blockade at one of the airports in the Davos area. The group said the WEF was the "root cause" of the global issues it sought to address.
Among the main items on the WEF agenda are the areas of environmental policy. The conference programs emphasize the top priority as "addressing today's energy and food crises within the context of a new system for energy, climate and nature".
CLIMATE ACTIVIST STEVEN SPIELBERG'S PRIVATE JET BURNED $116,000 IN JET FUEL IN TWO MONTHS
In the past, billionaires and world leaders like John Kerry, Bill Gates and George Soros have attended the Davos Summit.
The WEF conference has also previously faced attacks for hypocrisy related to the use of private jets by its participants.
In 2019, private jet company Air Charter Service published its own study showing around 1,500 private jets flew into airports near Davos for the annual WEF meeting that year, sparking outrage among environmentalists.
CLICK HERE TO GET THE FOX NEWS APP
The WEF responded, saying the figure was likely overestimated, but admitted the most accurate number was closer to 500 private jets, a year-on-year decline which it said showed that participants " took the environmental impact of their trip more seriously.
"We have been offering incentives for participants to use public transport for a few years," the WEF said in a statement in January 2019. "We also ask them to share planes if they have to use them; something which has been gaining popularity in recent years.
Fox Gt
Not all news on the site expresses the point of view of the site, but we transmit this news automatically and translate it through programmatic technology on the site and not from a human editor.