World News
Cold War icon complains about retirement — RT World News
Former Polish President Lech Walesa has revealed his retirement income isn't quite enough to make ends meet, despite being four times the national average. He led the Solidarity trade union in its confrontation with the USSR and was President of Poland from 1990 to 1995.
Walesa was the guest of the last episode of "Politicians Kitchen" a video series produced by the Super Express tabloid. He told presenters Piotr Lekszycki and Kamil Szewczyki that he was on a speaking tour at the age of 79 in order to supplement his pension.
"I do this to make money, because I don't have any" Walesa said. "I don't care about the money, I didn't care at all, but it was enough for me, and now it's not enough for me, so I have to earn some extra money."
He revealed his pension was 11,000 zlotys (about $2,640), which the outlet described as "really gigantic" compared to the national average of 2,700 zlotys. Walesa noted that the amount had increased from "5-6 thousand" about six months ago.
"Now it's a bit better, but everything has become more expensive, so it's more or less the same," he lamented.
In April 2023, official year-on-year inflation in Poland was 14.7%, with food rising nearly 20% and energy prices rising 14.8%.
Walesa attributed some of his financial troubles to the fact that he sometimes helps to help some of his seven surviving children, three sons and four daughters. "Who has bees, has honey, who has children, has difficulties" he said Super Express.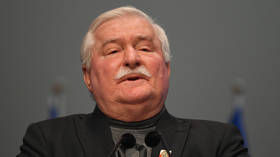 Born in German-occupied Poland in 1943, Walesa became an electrician at the Gdansk shipyard and eventually rose to the leadership of the independent trade union Solidarity. The union's political work and its collaboration with the Roman Catholic Church – led by Polish-born Pope John Paul II – is seen as crucial to Warsaw's break with socialism in 1989.
Although celebrated internationally, Walesa lost re-election in 1995 to former communist minister Alexander Kwasniewski. After winning just 1.01% of the vote in 2000, he retired from politics for good. He also resigned from Solidarity in 2006, amid a feud with brothers Jaroslaw and Lech Kaczynski, leaders of the Law and Justice (PiS) party that currently rules Poland.
You can share this story on social media:
rt Gt
Not all news on the site expresses the point of view of the site, but we transmit this news automatically and translate it through programmatic technology on the site and not from a human editor.