Business
business news | Horizon IT scandal: government reveals compensation for acquitted postmasters | Economic news
business news

Postmasters who have had their Horizon IT scandal-related convictions overturned are being offered interim compensation of up to £ 100,000 each, the government said.
The Ministry of Business, Energy and Industrial Strategy (BEIS) has promised that none of the 57 qualified so far will be 'left out' as the government-owned post office works on a full settlement .
Hundreds more are struggling to overturn their own convictions in a case related to a malfunctioning computer system, known as Horizon, which has seen deputy postmasters accused of theft and fraud.
April: Ex-postmaster: "All I want is my money"

It wrongly showed cash flow shortages, which resulted in the sacking of many of the 550 postmasters involved, being forced to hand over their personal savings to make up for losses or even imprisonment.
BEIS said: "The post office is contacting postmasters and will aim to make an offer of interim payment within 28 days of receiving a request from those whose overturned convictions were based on Horizon's evidence.
"If and when such convictions are overturned, these postmasters will also be eligible for payments."
Postal Affairs Minister Paul Scully added: "The suffering and distress these postmasters and their families have endured cannot be overstated.
"While nothing can make up for the years of pain they have suffered after this appalling injustice, I hope this first step will bring some comfort.
"The Post has started to take a turn in terms of dealing with its past mistakes – and this government will support them in that task where possible. "
It has been estimated that the taxpayer faces a total bill in excess of £ 300million.
The last convictions officially quashed, involving 12 former postmaster, took place this week at the Court of Appeal.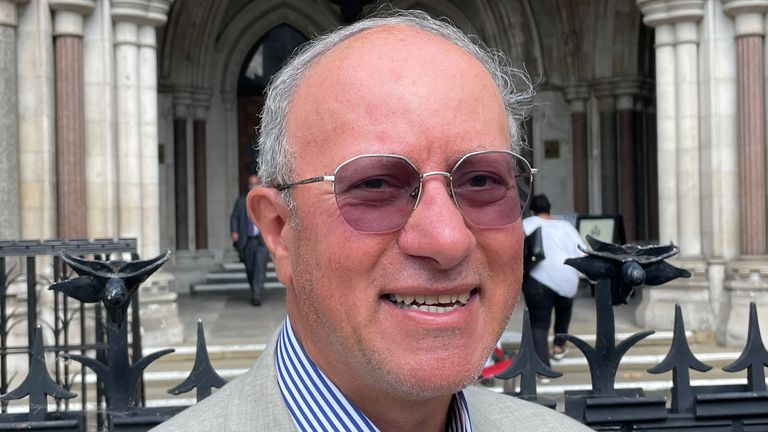 One of them, Sami Sabet, ran two post offices in Brighton and Shoreham-by-Sea.
She ended up in debt of £ 100,000 trying to repay the money despite her repeated attempts to tell the post office that he was not to blame and that it was Horizon's fault.
He told Sky News: "You can't imagine the angst I went through. There isn't a single minute in a single day that I don't talk about it."