Business
business news | Greensill had an "extraordinarily privileged" relationship with government, review finds | Politics News
business news

Lex Greensill enjoyed an "extraordinarily privileged" relationship with the government, and former Prime Minister David Cameron did not break the lobbying rules, a study found.
A report on the collapsed financial firm Greensill Capital – which Mr. Cameron pressured ministers to – was released on Thursday.
Leading lawyer Nigel Boardman led the investigation after Boris Johnson ordered the review following the lobbying controversy.
Whitehall's review looked at how government contracts were secured by Greensill Capital as well as the shares of Mr. Cameron.
The 141-page report says, "It is clear from the evidence I have reviewed that Mr. Greensill had a privileged – and at times extraordinarily privileged – relationship with government.
And Mr. Boardman concluded that Mr. Cameron "did not violate current lobbying rules and that his actions were not illegal."
"He did, however, agree to have used methods of communication which, in hindsight, were not the right way for a former prime minister to engage with the government," he wrote.
He said Mr Cameron told him that Greensill Capital pays him "a fair amount of money every year", and that he has equity and participates in an uncapped discretionary bonus program.
The report says the former prime minister "could have been clearer about his relationship with Greensill Capital" in his communications with the Treasury, the Bank of England and officials.
Mr Cameron welcomed the review, saying he was happy that it "provided further confirmation that I did not break any rules".
In a statement, he added: "It also makes it clear that I was not responsible for Lex Greensill's entry into government or any of the arrangements related to that.
"I have always said there are lessons to be learned and I agree with the need for more formal lines of communication.
"I have spoken openly about my relationship with Greensill Capital and I recognize the importance of being explicit in this regard.
"It is welcome that updated guidelines on how former ministers engage with government are taken into account."
Follow the Daily podcast on Apple podcasts, Google Podcasts, Spotify, Streamer
It was revealed that Mr Cameron had approached ministers and sitting officials about Greensill Capital's involvement in government-backed financial support programs during coronavirus crisis.
This included text messages sent to the Chancellor Rishi Sunak.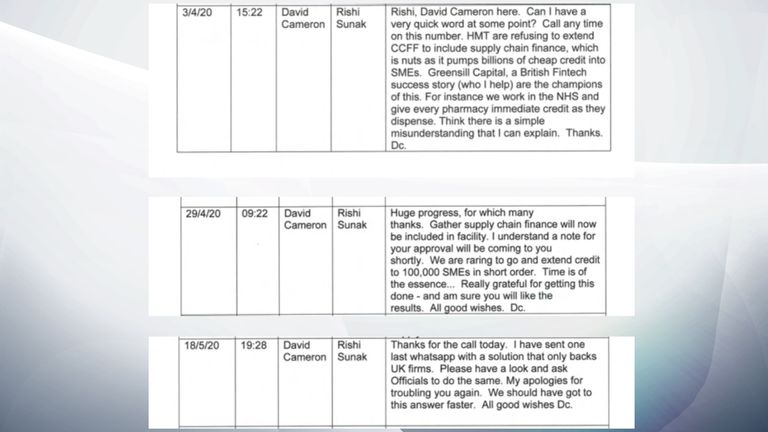 It has since been reported that Mr Cameron had arranged a "private drink" between the former health secretary Matt hancock and Mr Greensill to discuss a payment system later deployed in the NHS.
Break his silence on the controversy in April, Cameron admitted there were "important lessons to be learned", but stressed that he had broken "no code of conduct and no government rule".
Mr. Boardman is a non-executive member of the board of directors of the Department of Business, Energy and Industrial Strategy (BEIS).
He recently carried out a review of the awarding of Cabinet Office contracts during the pandemic.
Mr Boardman's report also stated that Lord Heywood, the former cabinet secretary, was "primarily responsible" for Mr Greensill being given a role in government during Mr Cameron's tenure.
The review indicates that Mr Greensill received two sets of official computer and security accesses for the Cabinet Office and, with the support of Lord Heywood, number 10.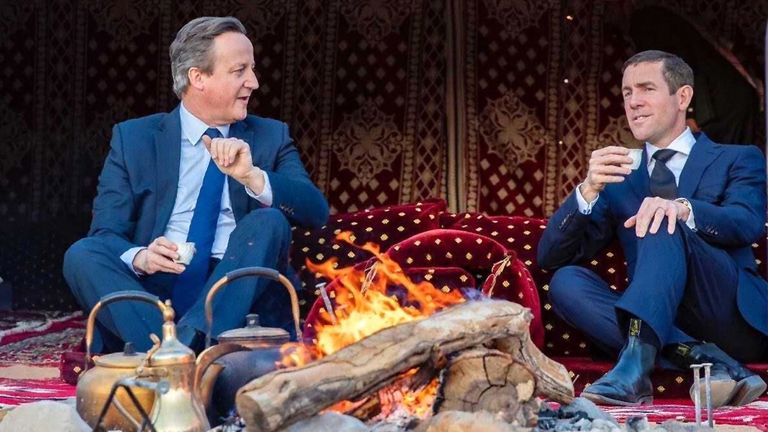 Mr. Greensill's role in government has given him a "marketing platform" for Greensill Capital's business with the public sector, Mr. Boardman wrote.
"This allowed Mr. Greensill to promote a product which, in fact, did not bring material benefits to the government. […] although it could have benefited his fledgling business and immediately benefited his former employer, Citibank, "the report said.
Downing Street said it would respond to attorney Nigel Boardman's report on lobbying Greensill Capital "in due course" once it reviews its first stage findings.
Responding to Mr Boardman's review, Deputy Head of Labor and fictitious Chancellor of the Duchy of Lancaster, Angela Rayner, said: "The Greensill scandal proves without a doubt that the rules meant to regulate lobbying are grossly inadequate and require attention. radical and immediate revision. "
She said the report was designed as "classic Boris Johnson cover-up and whitewashing to protect the government".