Grasim is accelerating its plans to enter the paint business at full speed, which could intensify competition. Global brokerage Macquarie, however, sees no threat to industry leader Asian Paints. The reason: Grasim needs time to build a brand image in a market that requires overcoming high hurdles to carve out a niche.
To start with, Grasim – a flagship company of the global conglomerate Aditya Birla Group – has doubled its capital expenditure (CAPEX) in its paint business to Rs 10,000 crore by FY2025, taking it from an earlier investment of Rs 5,000 crore by FY24.
It also plans to commission a paint production capacity of 1,332 million liters per annum (MLPA) by the fourth quarter of FY24. Haryana, Ludhiana in Punjab and Chamarajanagar in Karnataka are said to be booming following land acquisition and environmental clearances.
For those unsure why Grasim is getting into the paints business, the company, through its subsidiary UltraTech Cement, already sells Birla White, a popular brand of wall care sealant. It is among the top three players in the segment along with JK Cement and Asian Paints.
In terms of distribution network, Birla White has the second largest network in the paints industry with a presence in 6,000 centers in rural and urban India, according to a Hindu Businessline report. The presence of a strong coupled network will add synergy to Grasim's paints business, "bringing more dealers on board", the report adds.
A "Jio moment" in the paint industry
Jefferies sees Grasim's CAPEX plans as the "Jio moment" for the Indian paint industry.
"Grasim now plans to invest Rs 100 billion in paint investments by FY25. This is well above the raw block of APNT (historic investments), but the spread of pan- India's Grasim, with around 75% capacity of APNT, is causing concern There have also been incursions by Astral, JK Cement, etc., further complicating the issue. are obstacles, the structure of the oligopoly can be threatened – as in the telecommunications war, but this time the Aditya Birla group seems to be the aggressor," Jefferies analysts pointed out in a research report.
Macquarie sees no threat to Asian Paints' leading position and sees limited impact on the market leader. In a research report, the global brokerage said that the decorative segment has an attractive nature and Grasim needs to invest in brand development to be able to create a niche. Its foray will likely have a bigger impact on smaller players, but Asian Paints will not see a big impact as there are high hurdles to gaining a significant market share, he added.
Nonetheless, Asian Paints' share price corrected sharply, falling nearly 6% to today's low of Rs 2,890, after opening at Rs 3,060 apiece. The 52-week high for Asian paintings stood at 3,588 on January 10 earlier this year. Grasim shares the flat trade, with the stock hitting the day's low at 1,357.60 after opening at Rs 1,405.
The Street is obviously taking inspiration from Grasim's capacity target of 1.3 billion liters, or 75% of Asian Paints' 1.73 billion liter capacity for fiscal year 2020, as a disruptor. This is despite Asian Paints having a 42% market share in the industry, more than three times the revenue of Berger Paints, the country's second-largest paint manufacturer.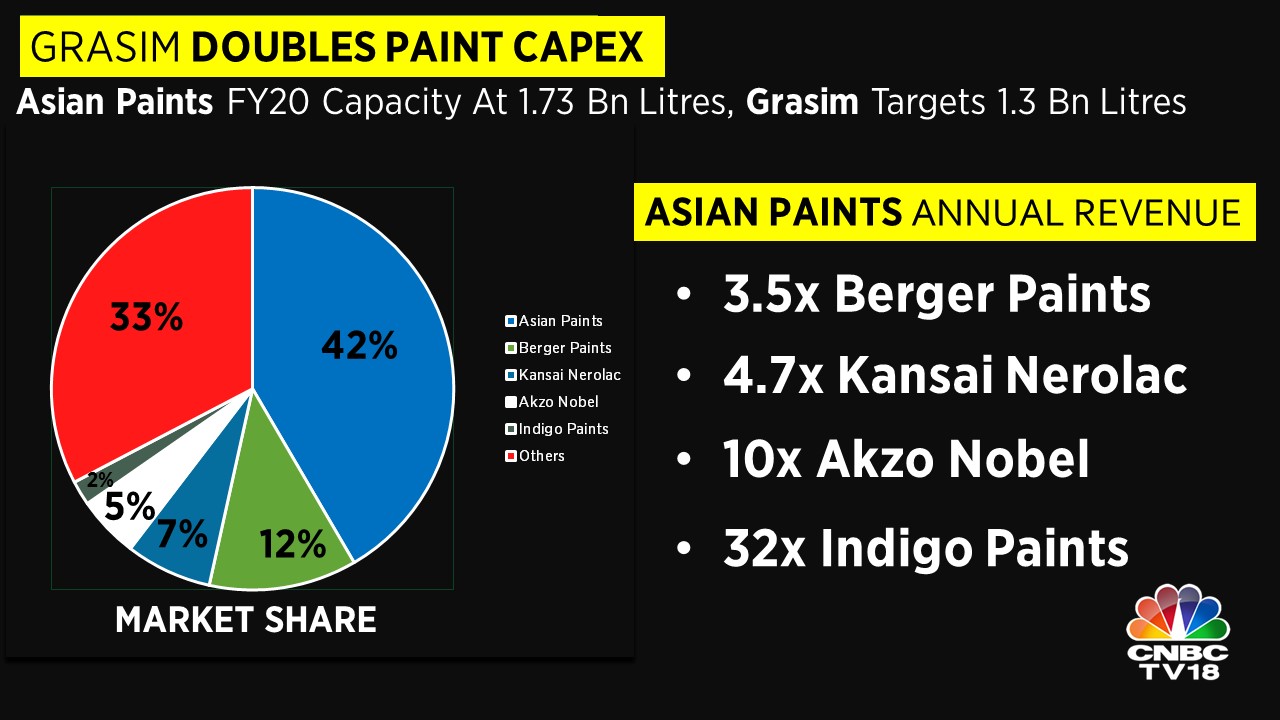 Expert view
Saurabh Mukerjea of ​​Marcellus Investment Managers is well known for his preference for Asian paints and has often cited the paint company's management's vision of staying ahead of the competition.
"In the case of Asian Paints, we've seen it time and time again over the past 20 years, every time gross doubles over a two-year period, Asian Paints' operating margins and gross margins generally when crude doubles the speculators do exactly what they do they try to sell Asian Paints and the stock recovers very well I think the last 12 months Asian Paints is around again 24-25%, the long-term capitalization has been like this for the last 12 months," Mukherjea said in a recent interview on CNBC-TV18.
He's also optimistic about Asian Paint's non-paint initiatives, which are all profitable. "They are growing and doubling year by year, like their waterproofing and interior design business…Asian Paints is getting stronger, stifling competition and we are investing in big franchises.

cnbctv18-forexlive-benzinga
Not all news on the site expresses the point of view of the site, but we transmit this news automatically and translate it through programmatic technology on the site and not from a human editor.