World News
At least 150 dead in crowd crush during Halloween festivities in Seoul | South Korea
South Korea's president has declared a period of national mourning after a Halloween crush killed at least 150 people in a crowded nightlife area in Seoul.
Eighty-two others were injured when a large crowd marched down a narrow street during festivities in Itaewon district.
Choi Cheon-sik, an official with the National Fire Agency, said dozens of people were being treated for injuries in hospitals after the crash in the Itaewon recreation district on Saturday night.
Officials said people were believed to have been crushed to death after a large crowd began moving down a narrow alley near the Hamilton Hotel, a party spot.
Those killed or injured were mostly teenagers and people in their 20s, said Choi Seong-beom, the fire chief of Yongsan in Seoul. He said among the dead were 19 foreigners, whose nationalities were not immediately revealed. The toll could rise further since 19 of the injured are in critical condition.
More than 400 rescue workers and 140 vehicles from across the country, including all available personnel in Seoul, were deployed to the streets to treat the injured.
The National Fire Agency said separately in a statement that authorities were still trying to determine the exact number of emergency patients.
Television footage and photos from the scene showed ambulance vehicles queuing in the streets amid a heavy police presence and rescue workers moving the injured on stretchers. Rescuers and pedestrians were also seen performing CPR on people lying in the streets.
In one clip, paramedics were seen checking the condition of a dozen or more people who lay motionless under blue blankets.
Police, who were restricting traffic in nearby areas to speed up transportation of injured people to city hospitals, also confirmed that dozens of people were receiving CPR on the streets of Itaewon.
The Seoul Metropolitan Government issued emergency text messages urging residents in the area to return home quickly.
A local policeman said he was also informed that a lightning strike occurred on the streets of Itaewon, where a crowd had gathered for Halloween festivities. The officer requested anonymity, saying details of the incident were still under investigation.
Some local media earlier reported that the crush happened after a large number of people rushed to a bar in Itaewon after hearing that an unidentified celebrity was visiting.
President Yoon Suk-yeol said supporting the families of the victims, including their funeral preparations, and treating the injured would be a top priority for his government.
"It's really devastating," he said in a televised address. "The tragedy and disaster that should not have happened took place in the heart of Seoul in the middle of Halloween [celebrations].
"I have a heavy heart and cannot contain my sadness as the president responsible for people's lives and safety."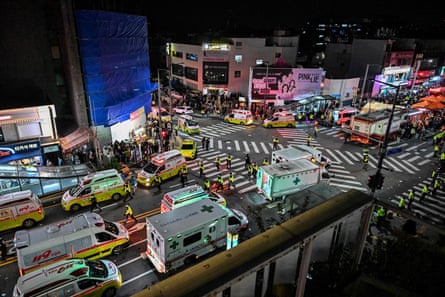 Yoon called on officials to ensure prompt treatment of the injured and to review the security of festival sites. He also asked the health ministry to quickly deploy disaster medical assistance teams and secure beds in nearby hospitals to treat the injured.
Officials initially said 150 people were injured on Sunday morning before later reducing their tally, saying more precise numbers emerged as rescue operations progressed.
Local media said around 100,000 people filled the streets of Itaewon for the Halloween festivities, which were the biggest since the start of the pandemic after the easing of Covid-19 restrictions in recent months.
Choi said all of the deaths were likely due to being run over in a single narrow alley. Many of the victims were women in their twenties, Choi said.
Witnesses described chaotic scenes moments before the lightning struck, with police on hand ahead of the Halloween event sometimes struggling to keep crowds under control.
Moon Ju-young, 21, said there were clear signs of unrest in the alleys before the incident. "There were at least 10 times more people than usual," he told Reuters.
Social media footage showed hundreds of people crammed into the narrow, sloping driveway, crushed and motionless as emergency officials and police tried to free them.
Other footage showed chaotic scenes of firefighters and citizens treating dozens of people who appeared unconscious.
Fire officials and witnesses said people continued to stream into the narrow alley which was already packed wall to wall, when those at the top of the sloping street fell, sending others below of them knocking down others.
An unnamed woman who said she was the mother of a survivor said her daughter and others were trapped for more than an hour before being pulled out of the crush of people.
A Reuters witness said a makeshift morgue had been set up in a building adjacent to the scene. About four dozen bodies were transported on wheeled stretchers and transported to a government facility to identify the victims, according to the witness.
The Itaewon district is popular with young South Koreans and expatriates alike. Its dozens of bars and restaurants were packed on Saturday for Halloween after businesses suffered a sharp drop in three years of the pandemic.
"You would see big crowds at Christmas and fireworks… but it was 10 times bigger than all that," Park Jung-hoon, 21, told Reuters from the scene.
Foreigners were among those transferred to nearby hospitals.
British Prime Minister Rishi Sunak tweeted: "Our hearts go out to those currently responding and to all South Koreans at this very distressing time."
US Secretary of State Antony Blinken tweeted: "We send our thoughts and deepest condolences to the family and friends of those who died and were injured, and to those [of South Korea] as they mourn this horrible tragedy.
With the Covid pandemic subsiding, bar and restaurant curfews and the 10-person limit on private gatherings were lifted in April. An outdoor mask mandate was dropped in May.
Authorities said they were investigating the exact cause of the incident.
President Yoon Suk-yeol chaired an emergency meeting with senior officials and ordered the establishment of a task force to secure resources to treat the injured and launch a thorough investigation into the cause of the disaster.
South Korea's latest deadly disaster has also hit young people the hardest. In April 2014, 304 people, mostly high school students, died in the sinking of a ferry. The sinking exposed lax safety rules and regulatory failures; it was blamed in part on excessive, loosely secured cargo and an ill-trained crew in emergency situations.
Saturday's deaths will likely draw public attention to what government officials have been doing to improve public safety standards since the ferry disaster.
It was the deadliest landslide disaster in South Korea's history. In 2005, 11 people were killed and around 60 others were injured at a pop concert in the southern town of Sangju.
theguardian Gt
Not all news on the site expresses the point of view of the site, but we transmit this news automatically and translate it through programmatic technology on the site and not from a human editor.