Arts
At auction, pre-Columbian art exerts a mysterious power of attraction …
More than three millennia of history, a mosaic of cultures and very varied styles… Despite a vast temporal and geographical amplitude, as well as some memorable exhibitions organized by the Quai Branly-Jacques-Chirac Museum ("Teotihuacan" in 2009, " Mayas. Revelation of endless time "in 2014), pre-Hispanic art remains unknown to the general public.
"It is an art of mystery, with many question marks, if we compare with Egypt where everything is more or less identified", admits Jean-Christophe Argillet, director of the Furstenberg gallery, one of the only two brands specializing in pre-Columbian art in Paris, with the Mermoz gallery.
Article reserved for our subscribers

Read also
Antique dealers and auction houses, an unnatural marriage?
For equal quality, the prices of pre-Columbian art remain below those of African or Oceanic art. If the record for a classic African piece was set at 12 million euros, pre-Columbian art peaked at 2.9 million euros, for a Mayan statue in stone and plaster.
"You can buy high quality things between 1,500 euros and 50,000 euros", observes expert Jacques Blazy. Thus Nazca ceramics (100-700 AD) from Peru, with polychromy of an astonishing freshness, of which one frequently finds specimens between 300 and 1000 euros.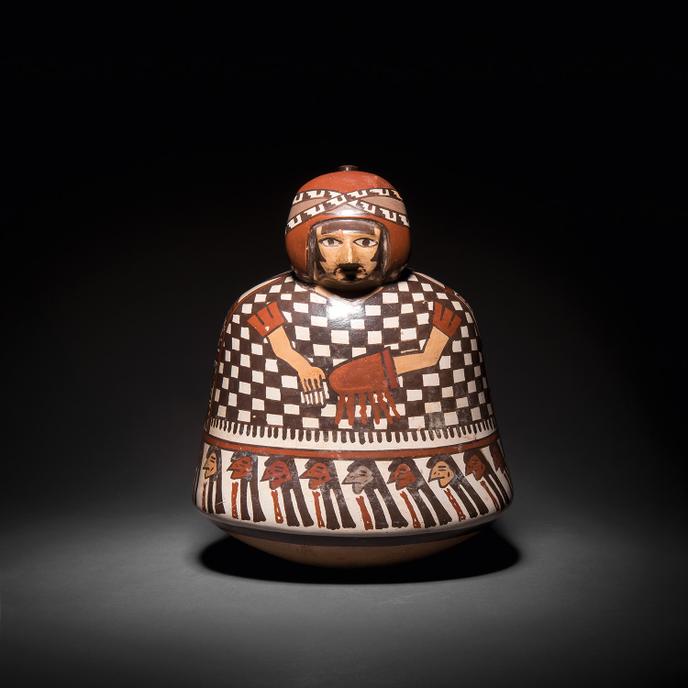 Within the same civilization, the price range could not be more elastic: from 300 euros to 300,000 euros, for example, for the statuary of the island of Jaina (Mexico). Likewise, if it is easy to find for less than 1000 euros the smiling terracotta figures of the Veracruz culture (1200 BC-1200 AD), it is necessary to bet more for a ceremonial ball player outfit. A yoke, a votive belt used during ritual games, thus reached 258,000 euros at the Gérard Geiger sale in 2005 in Drouot.
Popular Olmecs and Teotihuacan
The Aztecs of Mexico and the Incas of Peru may well occupy the collective imagination, archaic cultures are much more coveted. Thus the long and enigmatic Olmec civilization (1600-400 BC), cradle of classical Mexican cultures, to which the Quai Branly Museum pays tribute until July 25, 2021 with the exhibition entitled "Les Olmecs and the Cultures of the Gulf of Mexico ".
With a rare economy of means, by using abrasive powders, the Olmec sculptors modeled very successful forms, sometimes reaching the sublime. Among the most sought-after objects, stone or jade masks, endowed with the characteristics of the human face, as well as the so-called terracotta "Baby faces". In June, an anthropomorphic statuette with a chubby serpentine facies was sold for 399,900 euros at Binoche and Giquello.
Another highly rated culture is that of the mysterious city of Teotihuacan. Thriving between 450 and 600 years after J.-C., this large priestly metropolis venerated the god Quetzalcoatl, the famous feathered serpent who would have raised men above their animal condition.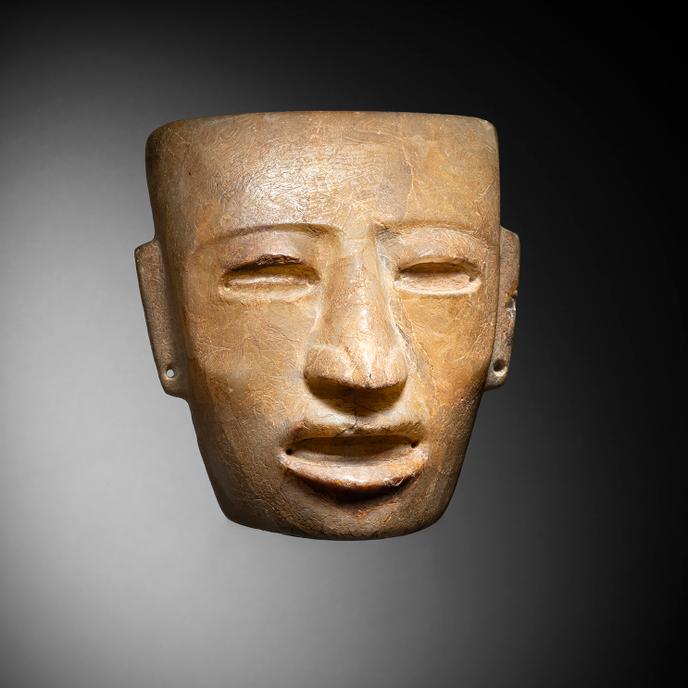 Lapidary art from Guerrero, in southern Mexico, has also seen its prices rise. His small anthropomorphic and refined axes, which are reminiscent of the minimalism of Greek Cycladic art, rally the votes of new collectors. "In 1992, an ax could be worth 1,500 euros, today it is between 200,000 and 500,000 euros", notes Jacques Blazy. In December, this expert will present to Drouot an anthropomorphic sculpture of Guerrero estimated at 35,000 euros.
A market plagued by fake
Gold objects, which survived the systematic casts of the Spanish conquistadors, are also popular. In June 2020, a Peruvian gold goblet was sold to Christie's for 150,000 euros, out of an estimate of 35,000 euros.
"We found this type of object around 10,000 euros in the 1960s, but prices have increased thanks to a better knowledge of Andean metallurgy", notes Fatma Turkan-Wille, specialist at Christie's. If objects from Peru and Mexico win the biggest prices, Jean-Christophe Argillet suggests broadening the spectrum to cultures and countries deemed hastily secondary.
Read also
Surrealism does not know the crisis
The pre-Columbian art market is however plagued by fakes. Also the Furstenberg gallery has chosen to match each object, whether affordable or more expensive, with a scientific analysis.
Another point to check is the degree of restoration. A reattached object has no discount. On the other hand, it is necessary to avoid excessively reconstituted parts. "The objects are two thousand years old, they must be accepted in the state in which they were found, insists Jean-Christophe Argillet. Better a fragmentary piece of which the essentials have been preserved than too perfect objects which would be distorted by contemporary additions. "
Objects sometimes claimed
Last shadow on the board, and not the least: the thorny subject of restitution. To counter looting and reconnect with their pre-Hispanic heritage, Mexico and Peru periodically claim objects by sheltering behind indigenous laws of the 19th century.e century not recognized by the international community, which prefers to refer to the 1970 Unesco convention and the 1995 Unidroit convention, ratified by France in 1997.
Until 2005, pre-Columbian art sales went off without a hitch. That year, the collection of Swiss Gérard Geiger totaled 6.18 million euros at Binoche. At the end of 2008, however, the Mexican authorities seized 76 pieces that were to be auctioned in Paris. After a year and a half of proceedings, Mexico will finally be dismissed and the objects returned to their owners.
Read also
Restitution of works of art: a nest of controversies and a stuck file
In 2011, the day after the sale of the collection of the Swiss industrialist Henry Law, the Mexican authorities dispute the authenticity of a great seated Mayan deity, auctioned for 2.9 million euros. However, this has been proven by an expertise on color pigments …
To avoid a similar mishap, a Mayan stele from the classical period and a fresco from Teotihuacan will be withdrawn from the sale of the Barbier-Mueller collection at Sotheby's in 2013. The dispersed set is known, documented and exhibited in Barcelona since 1997. But the zeal of the Mexican authorities fatally dampened the interest of buyers. Despite a beautiful pedigree and impeccable traceability, the Barbier-Mueller collection only collected 9.12 million euros, far from the low estimate – but prohibitive! – € 14 million.
For fear of reprisals from their Latin American colleagues, Western museums have refrained from buying on sale. Scalded, Sotheby's withdrew from the game. Christie's has just been back there since 2018. The auction house Binoche et Giquello continues to tackle it with rare consistency. "Our sales are so controlled that in the end, our buyers can buy with their eyes closed", assures Mr. Blazy, adding that "Even if one day international laws changed, it would not be retroactive".