World News
Amid New Orleans homicide spike, this woman is often one of the first on the scene
NEW ORLEANS – Sometimes the sadness becomes too much for Tamara Jackson, a victims' advocate in a city dubbed the nation's murder capital.
"I just have to turn off my feelings," Jackson said. "If you don't, I will be emotionally drained and will have to make myself valuable and useful to the next family."
NEW ORLEANS RESIDENTS WARN 'DON'T SIT IN YOUR CAR' AS CARJACKINGS RISE A SHOCKING 165%
More than 50 people have been killed in New Orleans so far this year. Three died in a car chase and shooting. A 15-year-old girl was shot through a wall during a sleepover. Two siblings were shot at an intersection less than a year after their younger brother was also shot.
Jackson works for the coroner's office and is dispatched to as many homicides as she can. She comforts loved ones of victims and helps guide them through the justice system.
"Their grief and trauma needs to be addressed," she said. "And I'm a therapist. So while I'm responding, I'm also able to do that crisis intervention when it's needed most."
Jackson knows what it's like to be in the shoes of the victims' families – his father was murdered nearly 23 years ago.
"I was one of those people," she said. "So I hate to say I get it, because every situation is different…but I have some working knowledge of how it can be, because I felt that way."
WHY THIS WOMAN IS ONE OF THE FIRST ON THE CRIME SCENE. SHOW:
WATCH MORE FOX NEWS DIGITAL ORIGINALS HERE
Violent crime has increased dramatically in New Orleans in recent years. The city had most homicides per capita among major US cities in September, briefly earning it the title of the nation's murder capital. Just three years earlier, New Orleans had recorded its lowest number of homicides – 119 – in nearly half a century.
"We don't have the population we had before Katrina, and we're still living through tragedy after tragedy," Jackson said. "The violence continues and people are still dying."
Grieving families may have questions about the crime that police cannot answer, Jackson said. She sees her job as bridging the gap between two essential partners in the investigation.
"I can collect information from families and share it with law enforcement, and vice versa," she said. "Family is a key ally because they know [the victim]Good or bad."
NEW ORLEANS MAYOR'S RECALL ORGANIZERS MARK DEAL THAT COULD REDUCE SIGNATURE REQUIREMENT
Jackson is also the executive director of Silence is Violence, a community organization established in 2007 to promote safety and youth engagement in New Orleans.
She said she's made valuable relationships in law enforcement that she didn't have 16 years ago. But she also faces bureaucratic hurdles when working with the government. His brief stint in the mayor's office for gun violence prevention was put on hold during a funding freeze, Jackson said.
"The community is going to be there before law enforcement," she said. "So we need to build stronger communities, healthier communities."
THE PERFECT STORM: HOW CRIME AND WAVES OF INFLATION HAMMER A OLD NEW ORLEANS RESTAURANT DECADES OLD
On a good day, there's no homicide Jackson can answer to. These days are becoming fewer and fewer.
"I had days where we had six [homicides]and we're all moving the same people from scene to scene," she said. "We don't have enough people that we can send in and have a whole new team react to."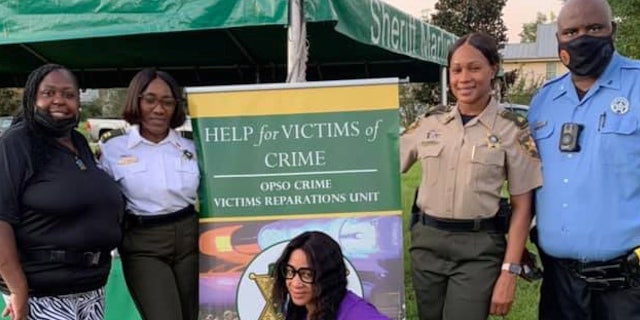 CLICK HERE TO GET THE FOX NEWS APP
Jackson has a ritual after dealing with a particularly difficult scene. She'll sit in her SUV, take a minute to breathe, and say a prayer.
But another family is waiting, so once she's recharged and ready to get back to work "110%", Jackson puts her car in gear and heads to the next crime scene where she'll meet the coroner and detective of the homicides.
And they will start again.
Fox Gt
Not all news on the site expresses the point of view of the site, but we transmit this news automatically and translate it through programmatic technology on the site and not from a human editor.