After Hagia Sophia, Istanbul's former Saint-Sauveur-in-Chora church will become a mosque – RT en français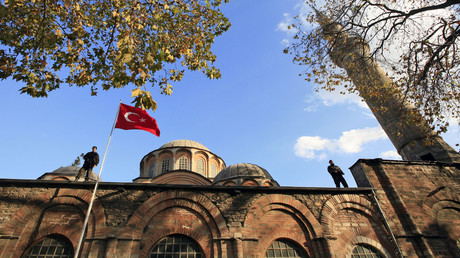 A month after the conversion of the Hagia Sophia, the Turkish president ordered the Church of Saint-Sauveur-in-Chora to be "opened to Muslim worship", a museum highly prized by tourists with numerous Christian frescoes.
Turkish President Recep Tayyip Erdogan on August 21 ordered the transformation into a mosque of an iconic former Orthodox church in Istanbul, a month after the reopening of the Hagia Sophia to Muslim worship. In a presidential decree published in the Official Journal, Recep Tayyip Erdogan ordered this popular place for tourists to be "opened to Muslim worship", based on a decision of the Council of State rendered in this direction in 2019.
Built by the Byzantines in the 5th century, the Church of Saint-Sauveur-in-Chora, also called the Church of the Chora, was converted into a mosque after the capture of Constantinople by the Ottomans in 1453. In the aftermath of the Second World War, the building underwent a lengthy restoration led by a team of American art historians to become a museum open to the public in 1958.
The decision to turn the Chora Museum (Kariye, in Turkish) into a mosque comes a month after the similar and controversial conversion of the former Hagia Sophia, listed as a World Heritage Site.
What future for Christian frescoes?
According to an AFP journalist who visited the site just after the publication of the Turkish President's decree, the building was still open to visitors, unlike Hagia Sophia, which was immediately closed with the announcement of its conversion.
Yücel Sahin, a 45-year-old resident of Istanbul, came "with excitement" as soon as he heard the news. "Our ancestors (…) became the owners of these places after the conquest" of Constantinople, he said, rejecting the idea of ​​a lack of respect towards the followers of other religions in Turkey.
"There are (many) churches and synagogues in Istanbul, but only a handful of them are open to prayer," he adds. Besides its thousand-year-old history rivaling that of Hagia Sophia, the Byzantine Church of the Chora is best known for its magnificent 14th century mosaics and frescoes, including a monumental composition from the Last Judgment.
Anna Naumova, a 25-year-old Russian tourist, wonders about the fate of Christian frescoes. "They say that some mosaics will be covered because they are not Islamic. It could be a problem for people who like this stuff and therefore won't come here anymore, "she said.